Archive: August, 2010
Peter Dobrin, Inquirer Classical Music Critic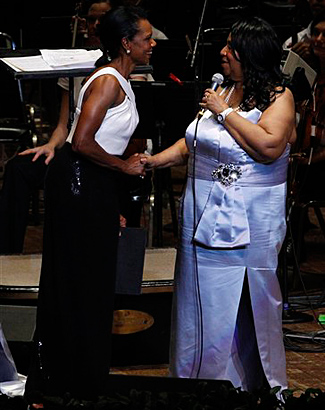 The Queen of Soul - who not too long ago conquered the Mann Center - fell and injured herself Sunday, the Detroit News reports. The fall left Franklin with fractured ribs and two concerts in Brooklyn postponed.
She's won't be sidelined long, she says.
"I was very much looking forward to being in Brooklyn and having a foot long hot dog at Coney Island," Franklin said in a statement. "Hopefully, I will get it before the end of August."
Peter Dobrin, Inquirer Classical Music Critic
Anne Ewers, president of the Kimmel Center, has inked a new three-year contract after completing her first three-year deal at the end of June...Former Settlement Music School chief Robert Capanna has taken a day job to supplement his poker winnings. He will become a director at Prudent Management Associates, investment managers, with "primary responsibility for business development, marketing and planning" for non-profits, foundations and individuals....Astral Artist Ilya Poletaev, 30, won the €10,000 first prize in piano at the XVII International Johann Sebastian Bach Competition in Leipzig, Germany in a field of 125 musicians from 33 countries...Thomas Eakins gets a warm critical reception for his first show in Los Angeles since 1927. Almost half the works in the exhibition were loaned to the Los Angeles County Museum of Art from several Philadelphia institutions. The show continues through Oct. 25.