Archive: August, 2009
Peter Dobrin

, Inquirer Classical Music Critic

Real news in this economy is a positive financial development for an arts group - in this case, the Philadelphia Orchestra.
Peter Dobrin

, Inquirer Classical Music Critic
Pure science has had to justify itself somewhat at the Franklin Institute in recent years. When the museum's addition, the Futures Center, opened in the 1990s, attendance jumped, but only briefly. Since then the Franklin has turned to travelling shows to boost visitorship. Some are only maginally related to science.
And so it's been instructive to see how well the current Galileo show is doing - and more than a little satisfying to Franklin watchers who think pure science can bring in decent numbers when a show is smartly conceived and promoted (as this one was). In fact, Galileo is up at the same time as a Star Trek show, and Galileo is doing better. CEO/president Dennis Wint told me yesterday it's been seen by 100,000 visitors.
"It's exceeded our goals," said Wint. "This was a new venture for us, having a historical exhibition with a lot of important scientific instruments but not what our typical visitor expects with a hands-on special exhibition. The media in particular has been very good in telling the story."
Peter Dobrin

, Inquirer Classical Music Critic
Ryan Trecartin is one of three finalists chosen for a new $150,000 Temple University prize for artists, and the only Philadelphian.
Born in Texas, raised in Ohio, he's lived all over. How did he end up in South Philadelphia?
"I was moving around a lot with a group of friends," he told me yesterday. "We're all artists, and kept moving from city to city. We were in Los Angeles and had only one car. We all made a list of where to move. No one had Philadelphia as a first choice, but a lot of us had it as a third choice and all of us had it somewhere on the list. So we all did it."
Peter Dobrin

, Inquirer Classical Music Critic

The Please Touch Museum yesterday was shut down again - this time when power lines in Fairmount Park came down and power was cut off. The museum closed last weekend after heavy rains caused flooding in the building. Please Touch was scheduled to re-open today, a spokesman said. Funny, these thing never used to happen when the museum lived in Center City.
Peter Dobrin

, Inquirer Classical Music Critic
If you haven't walked the 1600 block of Locust Street lately you might not know that the old Locust Club building is gone - and so is everything behind the facades of the two buildings on either side of the property. The historic facades are now nothing but slim masks of a construction site. They will be restored, with the Curtis Institute of Music's new dorms and rehearsal spaces rising behind them.
The project (see a rendering here) is being designed by Venturi, Scott Brown and Associates, and is slated to open in 2011.
Peter Dobrin

, Inquirer Classical Music Critic

Bang on a Can is starting its own marching band, and Friday they march into Philadelphia. Actually, they take the train down from New York (where they're in the middle of a five-night run at Lincoln Center) to play a few sets in 30th Street Station's north waiting room. The 12-member band, called Asphalt Orchestra, will choose from works by Stew and Heidi Rodewald, Goran Bregovic, Mingus, Zappa and Bjork. The music starts at 11:45 a.m.
Why Philadelphia? Why 30th Street Station?
This, via a publicist, from Bill Bragin, director of public programming at Lincoln Center:
Peter Dobrin

, Inquirer Classical Music Critic
Alec Baldwin narrated Copland's Lincoln Portrait Wednesday night for the opening of the Philadelphia Orchestra's season in Saratoga Springs, N.Y. Baldwin repeats the piece Sept. 26 in Philadelphia at the orchestra's opening gala.
"He loved working with Dutoit and the musicians - talked with as many as he could once his piece of the concert was over," said an orchestra spokeswoman of Baldwin. "He told them how much he admired them, asked questions about their schooling and background. It was pretty neat."
Peter Dobrin

, Inquirer Classical Music Critic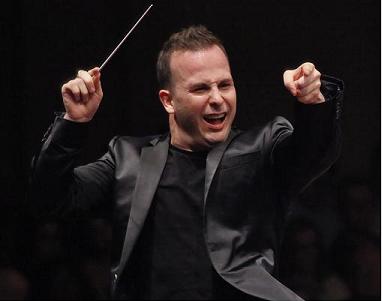 NEW YORK — The Philadelphia Orchestra's search for its eighth music director has entered a particularly treacherous stretch. Conductors' datebooks being what they are, filled three or four years in advance, the orchestra will have to act soon. But it doesn't have quite enough information on several of the candidates. Rock, hard place.
The search committees have vowed that no one will be hired until more than one visit to the podium — an unimpressive act of restraint when you consider how critical a decision this is.
And yet here at the Mostly Mozart Festival last night was the young Montréaler who is the current front-runner: Yannick Nézet-Séguin.
He has conducted in Philadelphia once, and his next visit to the orchestra comes this December. But as the Philadelphians settled in for their annual residency in Saratoga Springs, N.Y., the spotlight shone revealingly on Nézet-Séguin's personality a couple of hundred miles south at Lincoln Center.
This year's festival in fact can be seen as a study course in ways the search will go, could go, or should have gone. Following the "could go" line of thought, the orchestra might fall back on experienced conductors the next immediate level down, such as the Minnesota Orchestra's Osmo Vänskä, who takes a Mostly Mozart program next week.
In the category of young conductors the orchestra should have been hearing is Robin Ticciati, the 26-year-old Simon Rattle protégé. His concert Sunday at Lincoln Center with the Orchestra of the Age of Enlightenment will mark his U.S. debut.
The orchestra did get in on the ground floor with Nézet-Séguin, who was making his New York debut in this program of Mendelssohn, Stravinsky and Mozart with the Mostly Mozart Festival Orchestra; he makes his Metropolitan Opera bow with Carmen three weeks after Philadelphia, and then, a month later, has his first encounter with the Vienna Philharmonic.
Whether he would sit still long enough to say yes to Philadelphia is an open question.
But should we want him?
You might think that at 34, Nézet-Séguin is still developing, and perhaps he is. But other conductors are fully formed at even younger ages, and at this point what we have is a conductor who is a complete natural on the podium; an unrelentingly kinetic visual presence; and a musical thinker whose ideas range from limited to moderately interesting.
In Mozart's D Minor Piano Concerto the conductor was joined by pianist Nicholas Angelich (who will also be his partner for the Philadelphia Orchestra December concerts). Angelich is a matter-of-fact, even emphatic player. His solid sound was often a source of elation, but rarely poetry. I was grateful for the Beethoven cadenzas, where the pianist's emotional range had a chance to develop. Nézet-Séguin was a spirited but hardly meticulous ensemble-keeper.
This was a program of mostly not Mozart, and all the more illuminating for it. Nézet-Séguin programmed Stravinsky's Pulcinella — not in the suite for orchestra alone, but in the rarely done ballet score complete with mezzo, tenor and bass. Stravinsky's handling of melodies written by (perhaps) Pergolesi is a heightened dramatic experience with the presence of vocalists, and made more so by the rich characterizations by mezzo Karen Cargill, tenor Toby Spence and bass Matthew Rose.
Nézet-Séguin followed the Italian theme with a Mendelssohn Symphony No. 4 (the "Italian"), taken at some points at tempos too fast to appreciate details of dynamics and phrase-shaping. You have to credit the orchestra for holding it together. The conductor achieved a thoughtful personal imprint at a certain arrival point in the third movement. Lovely. And the last movement was a furious sprint that, despite running like the wind, was still crisp and controlled and untimately worked well.
The podium choreography was elaborate, and some of it, happily, even served a musical purpose.