Archive: July, 2011
Peter Dobrin, Inquirer Classical Music Critic
You didn't follow proper procedure, we have an awful lot of laundry and it doesn't need to be aired now - or maybe ever.
That's in essence what the Philadelphia Orchestra Association says in an objection filed late Friday in U.S. Bankruptcy Court to the American Federation of Musicians' request for a "sweeping" look into the Association's finances and operations.
The procedure - known as a 2004 Examination - has, in this case, one key ultimate objective: to determine that the Association must spend a portion of its endowment ($120 million held by the orchestra, an additional $20 million by the Academy of Music) on any liabilities it would incur by withdrawing from the current multi-employer pension plan for musicians.
Peter Dobrin, Inquirer Classical Music Critic
The Philadelphia Orchestra Association's blueprint for the ensemble's future promises to change over time - at least somewhat. The orchestra board has spent the past few weeks absorbing the strategic plan, and is expected to approve it at some point. But in the meantime, you can read the entire document here.
The orchestra has had its share of five-year plans in the past, but this one comes with considerably more urgency. As you will see, the strategic plan and the orchestra's chapter 11 bankruptcy petition are intertwined.
The Inquirer has written about the plan at least a couple of times; look for more coverage soon.
Peter Dobrin, Inquirer Classical Music Critic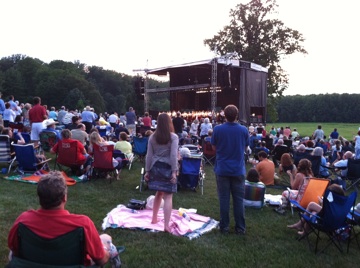 You take your chances when you mix music and nature – what with threats of heat, rain and the local entomology. But a pastoral grace held sway over the Philadelphia Orchestra's return to Longwood Gardens Saturday evening, bolstering the notion that this recent (re)marriage of venue and ensemble might be the best thing to happen to both in some time.
Thousands voted favorably. For its 2008 appearance, the orchestra sat down, rather formally, between the conservatory and fountains. This time, the less manicured sloping meadow was backdrop for more than 3,300 listeners in an intermission-less hour-and-twenty minutes of Johann Strauss "Emperor" Waltzes, the Bruch Violin Concerto No. 1 and Beethoven's Symphony No. 5.
As the sun set behind Strauss and murmuring meadows, you couldn't help swoon over possibilities for the future. The Boston Symphony Orchestra has woodsy Tanglewood, Glyndebourne opera reveres its polite picnic grounds, a ha-ha for sheep and 700-year-old manor. Classical music meets summer in many other lovely venues. Longwood, gorgeously endowed with 1077 acres 30 miles west of Philadelphia, beats them all. With the Philadelphians in the mood to cultivate listeners – and donors – closer to home, and Longwood set to complete a strategic plan next month that will mull facilities needs for its growing performing arts program, a real partnership should be within grasp.