Archive: May, 2011
Peter Dobrin, Inquirer Classical Music Critic
Tune Up Philly, the innovative music program at St. Francis de Sales in West Philadelphia, has found funding to ensure its second year of operation, the 2011-12 school year.
The Knight Foundation awarded the program $150,000, which has been matched with another $150,000 from local philanthropist Carole Haas Gravagno, leaving $165,000 still needed to reach full funding.
About 80 students attend intensive after-school classes in ear-training and choral music, and receive instruction on a chosen instrument, through Tune Up Philly. The institute is modeled on the successful El Sistema program in Venezuela.
Peter Dobrin, Inquirer Classical Music Critic
Most of Monday's Philadelphia Orchestra bankruptcy hearing was spent on Pops-related matters. Latest here.
Peter Dobrin, Inquirer Classical Music Critic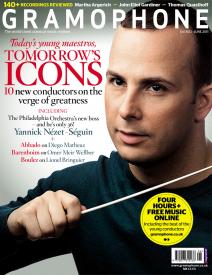 The Philadelphia Orchestra's next music director, Yannick Nézet-Séguin, is on the June cover of British magazine Gramophone, leading the list of ten young maestros "we think will shape our listening in the years to come."
He'll shape our listening locally when he takes over the orchestra in the fall of 2012.
Peter Dobrin, Inquirer Classical Music Critic
NEW YORK — Something odd, possibly unprecedented in recent memory, greeted the Philadelphia Orchestra before it played its first note at Carnegie Hall on Tuesday. In the first New York concert after filing for Chapter 11 bankruptcy, concertmaster David Kim arrived onstage to what would normally be polite, obligatory applause but instead turned into a loud ovation, vocalizations and all.
"It was a New York audience saying, 'Hey, hang in there!' " said Cori Ellison, former New York City Opera dramaturg and a regular pre-concert lecturer in Philadelphia.
"Some members of the audience stood, to the evident pleasure of the musicians," observed Sedgwick Clark, editor of the Musical America website.
Peter Dobrin, Inquirer Classical Music Critic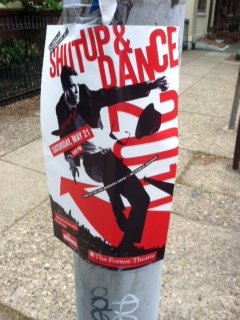 The arts sector isn't generally known for great marketing, graphics or advertising, but sometimes a group shows how trenchant messaging can punch through the visual jungle.
Here's a poster that makes you stop and pay attention. It has motion, it bleeds off the page, it looks sophisticated and important. In other words, it somehow has the ability to do its work quickly, so that if you do pass it by you're too curious to keep walking. You have to go back and see what it's all about.
It also is an apt visual translation of the event itself: Shut Up and Dance, the now-venerable (19 years - how can that be?) annual one-night-only dance fund-raiser for MANNA, the charity that delivers meals to patients with AIDS and other severe illnesses.
Peter Dobrin, Inquirer Classical Music Critic
Kimmel Center security moved in Saturday night to remove a strangely clothed man wielding an empty wine bottle in the center's lobby.
Until they realized he was acting.
He was in fact Gilles Rhode, one of the founders of La Compagnie Transe Express (see video here)– the troupe that pivoted, gyrated and struck bells and drums Saturday night high over the intersection of Broad and Spruce Streets. The act from France was hired by the Kimmel as the grand finale to the Philadelphia International Festival of the Arts.