Archive: May, 2010
Peter Dobrin, Inquirer Classical Music Critic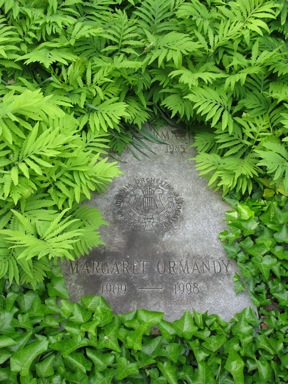 Once a year, on May 15, a dozen red roses appear on the grave of Eugene Ormandy in the churchyard of Old Pine Street Presbyterian.
The roses are no mystery, but the question of why the remains of the Philadelphia Orchestra's fourth music director, a Jew, reside in the cemetery of a Presbyterian church - the answer is not so clear.
What happened was this: When Ormandy was dying, his physician was Edward Viner, who was friends with Bill Pindar, pastor of the church. Pindar and Mrs. Ormandy grew to be friends.
Peter Dobrin, Inquirer Classical Music Critic
SHANGHAI – How does an orchestra play on the last night of a tour?
Anything from fatigue to inspiration may be the order of the day. Near the end of his life, conductor Wilhelm Furtwangler had microphones following him around so constantly that you can chart the progress of his Berlin Philharmonic tours – and varying degrees of inspiration and fatigue. More recently, Ivan Fischer's Budapest Festival Orchestra ended tours with recording sessions - with performances that could feel over-examined.
The Philadelphia Orchestra, in my less-than-comprehensive experience, is at its very best at tour's end – definitely the case Saturday at the Oriental Arts Center. With the World Expo concert out of the way, the orchestra could get back to working an acoustically sympathetic room with its great string sound – in pieces like Stravinsky's The Firebird and The Rite of Spring that demand it.
The something-extra elements included a chamber-music-like interplay among the woodwinds. Solos in The Firebird can pass without a lot of incident because they're so strongly connected to stage action; on Saturday, they took on extra majesty, especially from principal hornist Jennifer Montone. Then there's chief conductor Charles Dutoit, who typically navigates Stravinsky's rapidly shifting time signatures with something beyond mere elegance. I don't normally advocate performing The Firebird complete in concert, narrative music and all. But this time, Dutoit made a great case for doing so. To use a jazz term, the players wailed. No matter what happens in the current music director search, one hopes that Dutoit will have an honored place in the orchestra's future.
Ditto for Chinese audiences. The one on Saturday greeted Dutoit and the orchestra even more extravagantly than in Japan. After The Firebird, the man behind me sounded like he was having a spasm; from the way he was kicking the back of my seat, it's possible that he was. The crowd roared after The Rite of Spring. In the classical music world, the Chinese may be the new Italians, both as audiences and performers.
The afternoon of the concert, I picked up locally made Beethoven symphony recordings by the Shanghai Symphony Orchestra under Chen Xieyang, and though not world class, the emotional temperature and conceptual understanding of the music made the performances significant. Perhaps knowing the music under less-than-optimum circumstances fosters special appreciation for visits by the Philadelphia Orchestra, which reaffirmed its status as one of the world's great orchestras on this tour. But would that have been so obvious without Chinese music lovers urging the players on?
More sophisticated music communities sometimes seem to give standing ovations routinely, as if to show their friends how appreciative they are of this high-tone stuff, and to convince themselves that they got their money's worth. Among Chinese ticket buyers, the response had more-consuming passion. I even heard some of that among the student musicians – both in their playing and appreciation of music - in the distant town of Dujiangyan, where I accompanied Philadelphia Orchestra violinist Phil Kates for a concert celebrating the rebuilding of a school destroyed in the 2008 earthquake.
Upon leaving, we were asked to sign a guest book; I hesitated because I was there as an observer, not as a participant. I was also afraid of offending our hosts – and had also been thinking about Zhu Xiao-Mei, one of my favorite living Bach pianists who pursued her specialty with the composer during the Cultural Revolution. She was exiled to such a distant province that nobody knew Bach wasn't Communist Party approved.
With her in mind, this is what I wrote: "Keep doing what you're doing and don't let anybody stop you." In retrospect, they probably didn't need to be told. I also wonder if we need to touch base with them more than they need to touch base with us.
- David Patrick Stearns
Peter Dobrin, Inquirer Classical Music Critic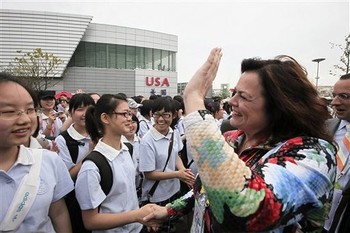 The Philadelphia Orchestra is headed home, with the first group returning to Philadelphia Sunday night.
Here's coverage of the last leg of the tour, in Shanghai, from David Patrick Stearns in The Inquirer.
The Times chimes in, too.
Peter Dobrin, Inquirer Classical Music Critic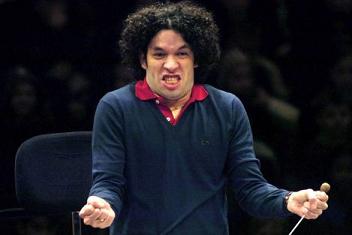 Very physical sport, this conducting - at least for some. Los Angeles Philharmonic music director Gustavo Dudamel pulled a muscle in his neck mid-concert Thursday, and did not come back after intermission, the Orange County Register reports.
More details in the Los Angeles Times.
He should have plenty of time to heal before we see him here - May 19 at the Kimmel Center. We hope.
Peter Dobrin, Inquirer Classical Music Critic
BEIJING – The Charles Dutoit Walk of Fame – as it has been informally dubbed by Philadelphia Orchestra members – engulfs audiences as they enter the National Centre for the Performing Arts (which, due to its exterior's shape, is known as The Egg). The maestro's likeness is seen on a series of a dozen or so vertical banners, all different poses but mostly from this autumnal period in his career, lining both sides of the rather long entry hall in this endlessly massive building. As if more evidence were needed of his exalted status in the Far East, the maestro was asked on Tuesday to undergo The Egg's version of the Grauman's Chinese Theatre ritual: His handprints were preserved in clay for later display in the performing arts center's museum. Move over Marilyn.
Ovations were long, loud and deserved at Tuesday evening's concert – this time the Tchaikovsky/Rachmaninoff/Ravel program, one that occasionally overpowered the brighter-than-bright acoustics of The Egg. No rosy haze to the sound here, even though the acoustical canopy over the stage has a combination of diffused lighting and layers of Plexiglas that give the impression of patchy fog hovering over the stage. Also, the usual physical and psychological division between musicians and audiences is absent. Seats are not only positioned on all sides of the stage, but many of them are eye-level with the musicians, and during the concert, lighting levels are kept high. We're all in it together.
At this point in the tour, the Philadelphia Orchestra needs no place to hide. The level of playing is optimum. The passion factor in works like Rachmaninoff's Symphonic Dances and Ravel's La Valse is rising. Dutoit's suaveness in concert is deceptive: In rehearsals shortly before curtain, his temperament borders on demonic in ways that impact the performance to come.
Violin soloist Arabella Steinbacher bounced back from the bad acoustics in Seoul and enjoyed a triumph in the Tchaikovsky Violin Concerto. Though it still might not be her piece, she came to terms with the concerto Tuesday in her own way, unlocking the music's drama through a kind of rhythmic precision that gave every musical idea an almost determinedly circumscribed space within the music's architecture. It's a compellingly Germanic approach, with expressive points made with articulation and phrasing more than color. Whether or not it's a complete interpretation, her performance was meticulously conceived in ways you can rarely count on in a piece that's heard this often.
- David Patrick Stearns
Peter Dobrin, Inquirer Classical Music Critic
It's the end for the House of Strauss.
Sunday afternoon under I-95, across the street from the South Philadelphia Target, photographer Zoe Strauss held the 10th – and last – of her annual shows. I love Strauss' work. There's a Diane Arbus element to it – an attraction to humankind in various states of disrepair. Strauss, though, perhaps has a deeper love for her subjects than Arbus, a cheering-on quality that shines through. She's not judging them or exploiting them; she's giving them a chance to explain themselves, uncomfortable as some of the stories may be.
But the thing about Strauss that was particularly striking Sunday – the thing I'm sorry to see go - was the unusual egalitarianism of these annual events. Encounters with art often means some distance – the price of admission, the sharp elbows of fellow art lovers – between you and the thing you came to see. But for free, you could walk an unexpected place and gaze at a couple of hundred photographs. For $5, you could walk away with a signed Strauss. Hugs and kisses from the photographer, no extra charge.
That's what hundreds did Sunday. The lines were long, but once you got up to Strauss' table, she showered her unconditional exuberance upon you.
The personality is part of the experience, no doubt. But there was a vibe to the entire experience that the art world could use a lot more of. It said, "This is about art, not money, not credentials. And it's for everyone."
At 4 p.m., when the show ended, Strauss did what she always did: let visitors peel off a favorite shot from a cool concrete pillar, and take it home.
And that was that.

Peter Dobrin, Inquirer Classical Music Critic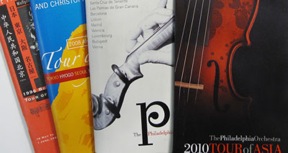 As the Philadelphia Orchestra moves on to China, David Patrick Stearns ties up a couple of loose ends from the orchestra's recent concerts in Tokyo and Seoul:
- The Philadelphia Orchestra is still buzzing about the abusive rehearsal it endured with pianist Pogorelich in Tokyo. In a Skype conversation with a musician from Canada, one of the Philadelphia members was told how Pogorelich walked onstage to perform with the Vancouver Symphony with his shirttail half out and his fly down. Philadelphia Orchestra violinist Davyd Booth believes the orchestra lost a golden opportunity by not videoing Tokyo rehearsal. It would make such juicy viewing, he says, the orchestra could market it on DVD, probably with so much success that its money troubles will be over.

- In Seoul, I was attacked so repeatedly by a malfunctioning turnstile that transit police encouraged me to just jump over it – something I haven't done in years. Then one of them determined that I had paid too much for my subway ticket, and actually chased me up the stairs and down the street to give me a 50-cent refund. At a concert intermission when I was fumbling for change at a soda machine, a woman walked by and handed me a 1,000-won bill (worth about $1), and seemed not to expect anything in return. It would seem that Koreans are some of the nicest people on the planet.
Peter Dobrin, Inquirer Classical Music Critic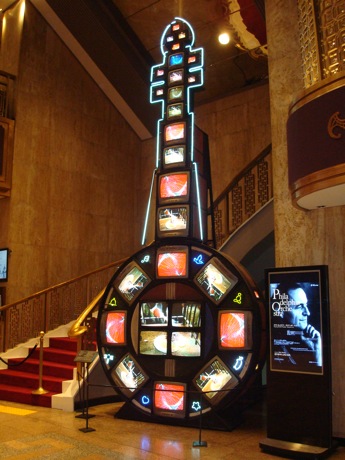 Audiences at the Philadelphia Orchestra concerts in Seoul were ambushed at the Sejong Center for the Performing Arts by a pair of peculiar, 15-foot musical instruments in the lobby, made up entirely of video monitors. On those monitors, all kinds of stuff is going down, sometimes with larger images spread across several screens mosaic style, sometimes with screens repeating the same images only positioned diagonally or upside down. At times, violins are seen burning - literally.

This is the work of Nam June Paik, the late Korean video artist who was an infamous presence in avant-garde New York circles in the 1960s and '70s. In later years, he came home to create, among other things, an installation for the Seoul Olympics consisting of 1003 video monitors. The Sejong Center installations are enigmatically titled "Tiger Lives," one piece resembling a giant banjo, another looking like a violin whose curves have been squared. After visiting them over the two nights the Philadelphia Orchestra played at Sejong on its tour of Asia, I never saw the same image twice. Some were color coordinated to create a total effect. Other were about content: In addition to the burning violin imagery, the bust of some famous composer was covered in a white custard-y substance with red cherry syrup suggesting some sort of brain surgery in progress - until Paik licked it off. I loved it.

Yet, what's this stuff doing here? To make us music nerds feel hip and edgy? Or to jolt us out of our hopelessly retrospective mindset? I prefer the opposite viewpoint, that the most widely heard classics mold our world in ways that they didn't in their own times - if only because modern technology allows older music to be so well disseminated as to take a prevalent place on the cultural landscape. Classical music is at times omnipresent, whether in some of the classier TV commercials, or on the Seoul subway, where a dramatic snippet of Mozart heralds the pre-recorded announcements of each stop.
Positioned in the lobby, Paik's video sculptures are put before an intelligent, educated audience of concert goers who probably won't have their guard up - they're there for music, not modern art, and are all the more likely to have fresh, undefensive responses as a result. Viewers are less likely to wonder whether or not they "get" the video installation because there's no prior investment. And what could be a better mindset for encountering modern, perhaps difficult art?

The orchestra's second concert at Sejong went as well as can be expected in a hall with not-so-responsive acoustics, though ones that were clear enough to get a good idea of what Dutoit hath wrought. In Stravinsky's Firebird and The Rite of Spring, Dutoit showed how he is continuing to consolidate his own, lower-fat version of the Philadelphia sound - one that lends itself to great flexibility, not to mention subtle gradations in color that Dutoit employs with a highly purposeful sense of expression. He's writing a new chapter in the orchestra's artistic history.
- David Patrick Stearns