Archive: May, 2010
Peter Dobrin, Inquirer Classical Music Critic
The Philadelphia Orchestra at Friday's concert honored three musicians retiring this season — all three hired during the Ormandy era: double-bass players Neil Courtney (a member since 1961) and Emilio "Lee" Gravagno (1967); and violinist Virginia Halfmann (1972).
The orchestra also presented its annual distinguished service honor, the C. Hartman Kuhn Award, to Herold Klein, a violinist in the orchestra since 1971.
Peter Dobrin, Inquirer Classical Music Critic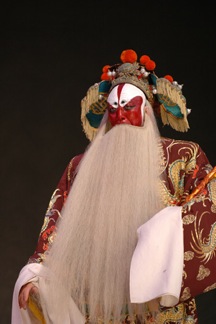 Steve Reich will visit Philadelphia for a three-day residency at the Philadelphia Chapter of the American Composers Forum for performances of his Double Sextet and Daniel Variations, dedicated to the late journalist Daniel Pearl.
The Philadelphia Chamber Music Society will present a series of world premieres (by David Ludwig, Richard Wernick, Adam Wernick and others) and Philadelphia premieres (by Elliott Carter, Osvaldo Golijov and others).
The Philadelphia Chinese Opera Society (费城京剧社) will perform three traditional Beijing operas: The Case of Chen Shimei (a Philadelphia premiere), The Wild Boar Forest, and The Jade Bracelet.
Peter Dobrin, Inquirer Classical Music Critic
Our inability to walk a block or two without flipping open the cellphone is creating an aural fabric of humanity that's fascinating to hear. Sound artists have worked with single phrases or sentences - Jenny Holzer - and even words manipulated as raw material (musique concrète). Tweets are a mass contribution to the artform.
But there's something even more economical and powerful about the unguarded (and often shouted) cellphone conversation - something that wants to be preserved and explored. Maybe Bruce Nauman (did you hear Days and Giorni at the Philadelphia Museum of Art?) needs to come to Center City to gather fresh inspiration.
Here are some examples. I'll keep adding more as I hear them. So far:
Peter Dobrin, Inquirer Classical Music Critic
And she's a violist. Helen Eaton, 40, will take over Settlement Music School in August. Details here.
She succeeds Bob Capanna, who will spend more time with poker and composition.
Peter Dobrin, Inquirer Classical Music Critic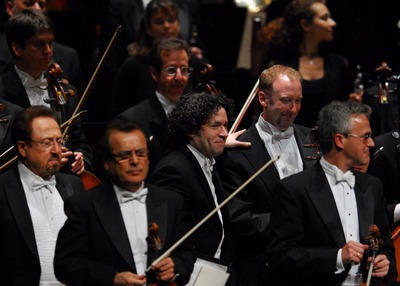 Gustavo Dudamel did something Wednesday night I've never seen any other conductor do. At the end of the concert, after having the orchestra stand for applause, he had the entire Los Angeles Philharmonic turn 180 degrees to acknowledge the audience sitting in the conductor's circle. Of course! They're listeners, too. Nice gesture, and one that I hope can become part of the Verizon Hall tradition.
In any case, here's a review of the Philadelphia concert on their current tour.
Here's what the Washington Post had to say.
Peter Dobrin, Inquirer Classical Music Critic

The London Philharmonic Orchestra and its two conductors - the same two who happen to have important, future-looking relationships with the Philadelphia Orchestra - have extended their commitments to each other, Gramophone reports.
As expected, and as already reported several weeks ago in The Inquirer, Vladimir Jurowski has a contract extension keeping him there through 2015. Yannick Nézet-Séguin, its principal guest, will stay on through 2013-14 under the terms of his freshened pact with the LPO.
None of this all by itself means anything new for the Philadelphia Orchestra, whose search for artistic leadership can now be fairly called protracted. It's been clear for some time that if Philadelphia wants Jurowski, it will have to find an interim until 2015. Would Dutoit cover the years until 2015 if given the title of music director? He has indicated that he might. Many players, though, are against it.
Peter Dobrin, Inquirer Classical Music Critic
Michael Kaiser, Kennedy Center president, says the recession may be stressing arts leaders to the point where they are plotting a mass escape.
An excerpt from his Huffington Post:
"I have spoken with thousands of arts managers over the past six months and it is astonishing how many are considering leaving their positions in the relatively near future.
Peter Dobrin, Inquirer Classical Music Critic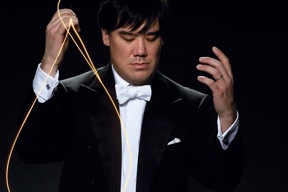 Alan Gilbert, music director of the New York Philharmonic, graduated from the Curtis Institute of Music 18 years ago, and returned Saturday to deliver the school's commencement speech. He talked about what a "special haven" Curtis is, "insulated and protected" from the outside world.
And the value of a good reality check.
"As I look back I do remember one exception in my memories of this sheltered, supportive existence. There was a very challenging rehearsal period that seemed to be unnecessarily brutal for the orchestra. It got so bad that we, the students, mobilized and officially complained to the administration: We felt that it was unfair, and educationally indefensible to have to learn so much music in such a short period of time. The soloist for that concert — one Isaac Stern — I would say it's fair to say he sided with the school, and defended the pressure and pace by saying, 'Come on guys! This is what it's really like out there!' It was a shock to hear that; it was an intrusion of a harsh reality into our Curtis lives. It also seemed like a facile justification, and even today, from an educational standpoint, I don't think I would argue that it is desirable to place such demands on a student orchestra. Still, I must say he was right: the experience was a dose of reality, and it may well have been a good lesson."