Archive: October, 2011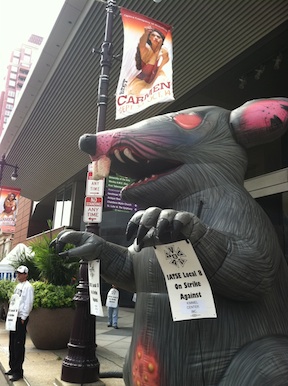 This is scheduled to appear in Sunday's print edition of the Inquirer.
The giant rat has been deflated. Extra security has gone home. And after an 18-hour strike by workers at the Kimmel Center for the Performing Arts, the shows will go on today.
Leaders of the Kimmel and local 8 of the International Alliance of Theatrical Stage Employees penned a deal Saturday putting a strike on hiatus. After talks failed to produce a new labor deal for stagehands, ushers, wardrobe and box office workers, the two sides decided to spend the next week in a "cooling off" period.
Update: 6:30 p.m. Saturday: IATSE union and Kimmel Center leaders have agreed to a deal that puts the strike of Kimmel workers on the back burner for at least a week. The Kimmel will reopen its theaters Sunday, and all performances will go on as scheduled at least through next Sunday, Oct. 9. Talks are expected to begin again, but no sooner than Oct. 10. More details soon.
-----------------------------------------------
Update, 3:15 p.m. Saturday: