Peter Dobrin, Inquirer Classical Music Critic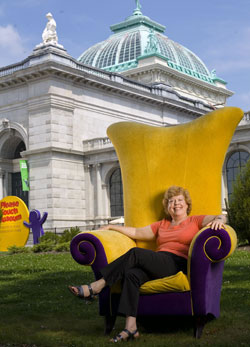 Please Touch Museum president and CEO Laura Foster is stepping down. Foster, leader of the museum for five years, said Tuesday it was a good time for her to move on.
"I want to do some new things," she said. "I want to spend time with my new grandchild. Twenty-two years is a long time," she said, referring to her start at the museum initially as director of development and marketing.
Foster's contract is up in November. How much longer she will stay has not been determined, said board chairperson Sally W. Stetson.
Peter Dobrin, Inquirer Classical Music Critic
Even before his first elegant keyboard gesture, Peter Nero got a standing ovation.
"Can we try that again, please?" asked Nero ironically, drawing a big laugh from his admirers.
But seriously, no — it won't happen again. Sunday's concert was his last as music director in Verizon Hall. The sign above the stage said it all: I the lights that spelled out "Peter Nero and the Philly Pops," the bulbs making up "and the" were burnt out, like unintentional supertitles signaling the now-severed relationship between the maestro and the group he led since 1979.
Peter Dobrin, Inquirer Classical Music Critic
If a night at the orchestra were a pure investment-return transaction, Lang Lang certainly gave Thursday's audience its money's worth. It's when the actual music entered the equation that things got a little dicey.
You had to look past a lot to hear it. At the front of Verizon Hall stage, with Simon Rattle leading the Philadelphia Orchestra, the pianist air-conducted or air-trilled with an idle hand when Beethoven failed to give him enough to do, mugged all manner of facial expressions, and kept leaning out to look at the audience, as if to ask: Do you like this? They did. I don't think I've ever heard a spontaneous audience roar quite like the one that greeted the encore. Lang Lang and Rattle did Dvorak's Slavonic Dance, Opus 46, No. 1 seated together at the keyboard, piano four-hand. Rattle joked that he had decided to keep his day job, but he was being modest. They gilded the piece with great lift and animation. This act might have legs.
Let me just take the pledge right up high: I fully support Lang Lang's right to be Lang Lang. What a wonderful thing it is that this personality, for which Philadelphia bears partial responsibility (he is a Curtis Institute graduate), is as individualistic as it is. I also respect the non-believers in the audience — of whom there were at least a few — who prefer their Beethoven less addled. The Piano Concerto No. 3 in C Minor was subject to arbitrary accents in the first movement, jarringly extreme dynamics in the third, and an exquisite portrayal of serenity in the second. Rattle's trademark observation of very quiet pianissimos set a mood that went unviolated in that section. He kept the strings lean and the textures permeable, which allowed Lang Lang's tone to ring. A little farther out on the spectrum, the pianist recalls violinist Anne-Sophie Mutter, whose transgressions of taste in some places come in a package that also brings frightfully human insights. Lang Lang's exploits are more arbitrary (why the third-movement violence?), and yet his presence in the hierarchy of top soloists remains felicitous.
Peter Dobrin, Inquirer Classical Music Critic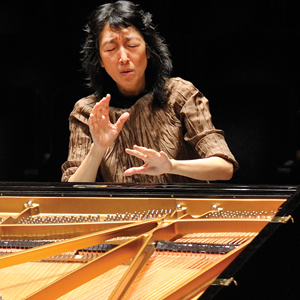 If you are looking forward to Mitsuko Uchida's Wednesday night recital with the Philadelphia Chamber Music Society, you'd better have tickets already. The pianist's concert at the Kimmel is sold out, and PCMS has a waiting list of more than 100 names looking for up to 175 tickets.
"We very often have waiting lists (even as many as 50+ names), but this is the longest in recent memory," said box office manager Bradford Kochel.
The Inquirer review is now here.
Peter Dobrin, Inquirer Classical Music Critic
There is lots today about Phil Ramone, the music producer who died Saturday, and his work with the Paul Simons and Billy Joels of the music industry. But not mentioned is his history in Philadelphia with a different genre. Read about his extremely successful outing with the Curtis Institute of Music orchestra here.
Peter Dobrin, Inquirer Classical Music Critic
The Philadelphia Orchestra exited bankruptcy in July. But in the months since, the orchestra has been settling up debts and taking care of other administrative matters, and has been responsible for filing a certain amount of paperwork with U.S. Bankruptcy Court.
The reorganization was a significant chapter in the life of the organization, and as such, it's perhaps worth noting that with the signing of an order Wednesday by Judge Eric L. Frank, the bankruptcy cases of the Philadelphia Orchestra and Academy of Music are officially closed.
When it filed for Chapter 11 in April 2011, the Philadelphia Orchestra became the first major U.S. orchestra to declare bankruptcy.
Peter Dobrin, Inquirer Classical Music Critic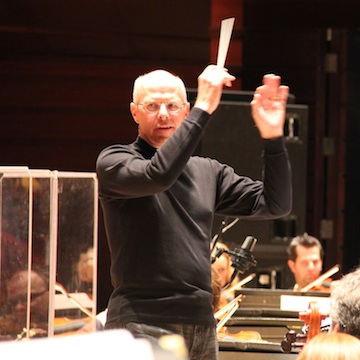 Ah, look at all the happy people. Where do they all come from?
If the Philly Pops were smart, they'd get their email addresses, all those young(ish) Beatles fans who came to hear a show conductor Michael Krajewski called "authentic recreations" of an English band that broke up 43 years ago. Members of the Classical Mystery Tour, cloaked in accents and hippy garb, sang and played Lennon and McCartney favorites in Verizon Hall Friday night while Krajewski and his band played back up.
I claim no special authority on the repertoire – being, in the '60s, too young to be fully sentient. But then again, a lot of people in the '60s weren't fully sentient, and the act seemed a decent if not particularly striking imitation of the real thing. Others looked convinced. By the end, hundreds of listeners were swaying lit cell phones in the air to an encore, "Hey, Jude." And it was oddly hilarious to watch an unintended anti-authority pantomime playing out in the conductor's circle – an usher telling these cell phone wavers to turn them off and put them away. At a certain point he gave up. Leave it to the Kimmel to start acting nervous when people start having fun. Really, what could have been the harm?
Peter Dobrin, Inquirer Classical Music Critic
A concert of Beatles tunes may not give Michael Krajewski as much creative opportunity as he will have in future programs, but Friday night the pops conductor makes himself known with his first concerts leading the Philly Pops. Krajewski is slated to take over as music director in 2013-14. Information here.