Peter Dobrin

, Inquirer Classical Music Critic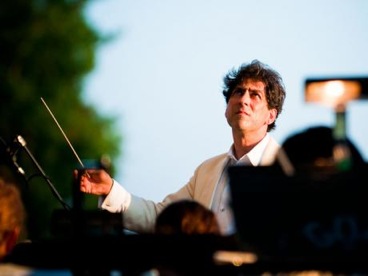 Contract talks will continue, but management and players of the Delaware Symphony Orchestra have struck a temporary deal that salvages the rest of the 2012-13 season.
The pact carries the orchestra through May 31, and calls for no reductions in the per-service pay scale, pension, mileage, cartage, or per diem, according to a union source. It does not guarantee a set number of services, but does preclude artistic dismissals and demotions this season.
Unable to reach a deal with musicians, the Delaware ensemble had canceled full-orchestra concerts this season and put in place a four-concert series of chamber music programs. (Addition: a musician familiar with talks says the decision to suspend the season came June 1, and was for financial reasons, not because of contract talks.)
Peter Dobrin

, Inquirer Classical Music Critic

School's been in session just weeks, so a few eyebrows arched at the appearance of Ein Heldenleben on the Curtis Institute of Music's first orchestra concert of the season. The score, treacherous and sophisticated, should come with skull and crossbones and the words nicht fur Kinder on the cover.

When Carlos Miguel Prieto led the ensemble in the Strauss workout Monday night in Verizon Hall, eyebrows were raised — not in doubt, but with awe. The work features intermittent but extended violin solos, played here by concertmaster Nigel Armstrong. Just getting through the part grants exoneration in the violin world. But Armstrong, 22, a second-year Curtis student, played at a level so highly developed it would have brought honor to any professional orchestra.

It wasn't about technique, though that's firmly in place. His was a real interpretation, with shape and purpose, minute manipulation of pitch and time, and fine gradations of bow speed. And then there was the sound. Armstrong — from Sonoma, Calif. — used a Guadagnini willed to the school by pedagogue Veda Reynolds. It was no doubt partly responsible for the throaty low register, responsiveness and penetrating-but-sweet upper notes. But in Armstrong, it had a natural partner able to make it ring.
Peter Dobrin

, Inquirer Classical Music Critic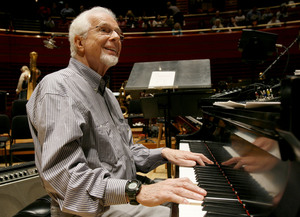 No one does variety hour quite like Peter Nero. In fact, in the old show-business sense of it, nearly no one but Nero practices the form at all anymore. And when Nero moves on at the end of this season from his 34 years as chief of the Philly Pops, the concept may disappear altogether.
Nero himself may not consider what he does to be of the variety-hour variety, but consider what tapped and shuffled across the stage Friday night: the concertmaster from Buffalo playing a tango tune from a recent film; a song-and-dance duo with a tribute to Fred and Ginger; direct from Spain, the dark and handsome classical guitarist you may have already seen on YouTube; a free-wheeling Richard Rodger symphonic tribute. And more.
In case you haven't already guessed it, the variety weighed in at considerably more than an hour, at 2 ½. Of course, there was Nero himself, presiding over the whole evening from the keyboard with occasional quips about politics and a pianistic facility that straddles what could have been in lesser hands a tasteless overlapping of classical and jazz. He has the gift of making it sound like these two worlds were conceived as two halves waiting to discover each other.
Peter Dobrin

, Inquirer Classical Music Critic
When orchestra plays live to film, as the Philadelphia Orchestra increasingly does, you might find yourself consciously sorting out the essence of the experience. Are you in a movie house or concert hall? In West Side Story, with the orchestra playing beneath a large-screen showing of the 1961 film, Philadelphians Friday night easily out-rumbled the balletic thugs from the Sharks and Jets. But when the audience applauded at the end of songs, were they showering Natalie Wood with praise, or the orchestra's alternately luscious and trenchant handing of Leonard Bernstein's score? Those few who walked out at the end as the orchestra was playing music over credits made it clear where they thought they had spent the evening.
The question of concert versus movie apparently never worried the woman sitting in front of me; poor thing had mistaken Verizon Hall for her living room. Kicking off her shoes and setting stocking feet atop the first-tier railing made for a curious bit of social slouching not likely to be tolerated by any parent at one of the orchestra's family concerts.
Audiences better get used to more "event" elements entering the concert realm. Management even aims to bring the circus to town, literally, in case the orchestra on stage isn't enough to bring you in. This West Side Story, though, was an absolutely legitimate artistic project. For one thing, the city can take a special interest in Bernstein, who went to the Curtis Institute of Music, where the culture is now catching up with the composer/conductor's prescient acts of career-inventing and comingling of classical with popular.
Peter Dobrin

, Inquirer Classical Music Critic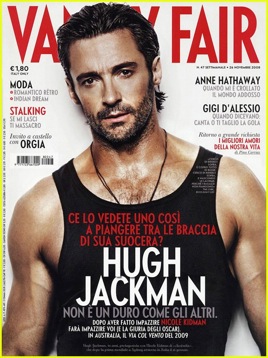 Who is the special guest for the Academy of Music's 156th birthday this January? Is it:
(a) A highly respected song and dance man? (b) The sexiest man alive, 2008? Or (c) a wolverine?
In a gesture of considerably greater Hollywood dash than previous years, Academy leaders are importing all three in a single guest: Hugh Jackman.
Peter Dobrin

, Inquirer Classical Music Critic

Charmingly and forcefully, Astral Artists has finessed its way onto the local and national arts scene. Twenty years ago, nearly no one saw the need for an organization that would help young talent make the leap from conservatory to stage by giving sage career advice, booking concert dates and making the kind of connections for an emerging artist otherwise available only by landing a hard-to-get agent.

Now, like the New World Symphony in Miami and Concert Artists Guild in New York, this unlikely wildflower seems indispensable – to audiences as well as artists. In its concert series, the point isn't necessarily musical polish, though there was plenty Saturday night at Astral's 20th anniversary gala concert at the Perelman Theater. A video of interviews with Astral musicians, founder Vera Wilson and others revealed work away from the city's prime venues with the elderly and disabled, and when clarinetist Benito Meza said no audience was more important than any other, you believed it. I'm not sure a board member of any group could have spoken more movingly about classical music than Debra Lew Harder, who, with a quietly powerful delivery, declared it as nothing less than the essence of life.

Astral alumni returned to perform. Pianist Andrius Zlabys showed his unusual insight in Bach, balancing elegant legato with near-pizzicato lightness, in the Fantasia and Fugue in A Minor, BWV 904. Soprano Dísella Lárusdóttir delivered two Mozart concert arias with Andrew Hauze leading a small chamber orchestra, her voice pleasant and strong though not yielding deep meaning of the texts.
Peter Dobrin

, Inquirer Classical Music Critic

A tentative agreement has been reached between players and management of the Chicago Symphony Orchestra for a three-year deal. A vote is expected shortly. Details of the new contract have not yet been revealed.

Update: musicians have ratified the new contract; the CSO board has not yet approved the deal. A bit more here.
Peter Dobrin

, Inquirer Classical Music Critic

The news is grim in Orchestraland. The troubles of the Philadelphia Orchestra over the past two years were but the canary in the coal mine. Will Philadelphia also find its way to stability sooner than some others? Sunday's piece explores the future.

Elsewhere, the Chicago Symphony Orchestra is on strike. Philadelphia musicians weighed this option during the bankruptcy/judicially supervised renegotiation of their labor contract. In the end, they saw that a strike would probably accelerate audience drain, and took a huge hit in wages and pension instead. Chicago players are determined to see that it doesn't happen to them.

Musicians and management of the wonderful Minnesota Orchestra are still talking. The administration's April 12 position proposed that players take an average pay cut to $89,000, from $135,000, the StarTribune reports. A lockout is a possibility, which is exactly what happened at the Atlanta Symphony Orchestra.