Philadelphia Museum of Art
Peter Dobrin

, Inquirer Classical Music Critic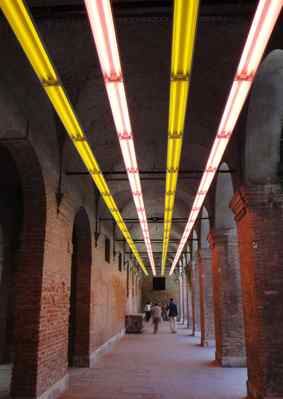 Bruce Nauman has been in town this week. The American artist is remounting - listening, tweaking - two works that debuted at the 53d Venice Biennale, which closes Sunday. One of the pieces, Days, was in progress when the U.S. State Dept. chose Nauman and the Philadelphia Museum of Art to represent the U.S. at the Biennale. Then, in response to the honor, Nauman created an Italian-language counterpart, Giorni.
Both Days and Giorni are at the Art Museum through April, and anyone who cares about Nauman or music should hear them. It's helpful to commit to a long period of concentrated listening and thinking when you're in their presence. They reveal messages - and there are many of them - with time. Among other things, both works teach us to listen for poetry in the cacophony of daily life. Perhaps there's a certain Zen to be had in airports and big-box stores after all.
I'll have more about Venice and the two new works in Sunday's paper. My colleague Ed Sozanski gives Days and Giorni proper critical appraisal at a later date. The full show won the Biennale's top prize and accomplished quite a bit for the museum.
Peter Dobrin

, Inquirer Classical Music Critic
The Philadelphia Museum of Art's Japanese ceremonial teahouse and garden are closed while the ceiling is replaced and lighting improved. The $350,000 project - funded by the Women's Committee and a private donor - will install a translucent ceiling, which aims to provide a more convincing outdoor look for the garden. The previous ceiling was installed in 1958.
And so, galleries 241, 242 and 243 in Japanese Art will remain closed as work is performed, re-opening to the public with the exhibition Pleasures and Pastimes in Japanese Art sometime around the new year.
Here's some history on the teahouse and garden via Felice Fischer, the museum's Luther W. Brady curator of Japanese art and curator of East Asian art: