Kimmel Center for the Performing Arts
Peter Dobrin, Inquirer Classical Music Critic
Here is an early, unedited version of a review scheduled to run in the paper edition of The Inquirer tomorrow.
You can keep those waltzes and polkas. This New Year's eve the Philadelphia Orchestra imported Audra McDonald.
In their annual glamour grab, a lot of American orchestras have appropriated Vienna on this night. Passing the last few hours of the year with Strauss and Straus has its old-country pleasures, though like a lot of folk music, doing it right is more tricky than it sounds. Without the artistic integrity to time an authentic distortion of the afterbeats, auslanders just can't communicate what it is that makes a Vienna waltz defy gravity. It's really a kind of swing, and it doesn't belong to us.
What our indigenous ensembles do have, or should have, is an ear for American popular song, and the sound of McDonald Thursday31 night in Verizon Hall against all that Philadelphia Orchestra lush made your heart beat faster, especially in the Gershwin tunes.
The actress and singer (who spent a similar New Year's eve with the New York Philharmonic three years ago) has a love of sonic purity, and her way of making a song her own comes not by way of liberal interpretation but through intensifying the composer's intentions.
Her strengths even render powerless the risk of cliché: wisely, she approached Arlen/Harburg's "Over the Rainbow" not by starting at the chorus as most do, but with the rarely heard verse - all accompanied by only the sensitive amplified acoustic guitar of Kevin Kuhn. "Moon River" could have been the stuff of kitsch, but in a touched-by-dissonance orchestration by Lee Musiker, Mancini came off with a glistening, nocturnal edge.
That McDonald is a technician of the highest order was clear with the machine-gun-fast triplets of Loesser's "Can't Stop Talking About Him."
The orchestra had plenty of material on its own – Gershwin's An American in Paris, the "Three Dance Episodes" from Bernstein's On the Town – and perhaps too much. Rossen Milanov was conducting, and the material often sounded under-rehearsed. I hope to never again hear the Philadelphia Orchestra as raggedy and out of its element as it did in the Robert Russell Bennett orchestration of the Overture to Gershwin's Girl Crazy.
The concert, sold out, was a strange paradox. Twice McDonald had to re-start the orchestra after bad starts (one time was her fault, the other perhaps a shared mishap). The evening was littered with sloppy or false orchestra entrances and instrumental sections playing out of sync.
And yet McDonald's ease and wit was the larger presence, and when the group could fall back on its traditional sound and soft, kitteny mews, the package was luxuriant. Gershwin's "Ask Me Again" was as if written for this ensemble in an arrangement by Ted Sperling and orchestration of Bruce Coughlin.
Anyone who left after the printed program indicated McDonald was finished missed a ten-minute bonus: Arlen's "Ain't it de Truth" from Jamaica, and "May You Always," the popular song by Larry Markes and Dick Charles that mingles with "Auld Lang Syne."
Again, McDonald averted cliché. There was nothing boozy or sentimental in her view of the tune, which traditionally sends audiences into the cold New Year's Eve air in an odd state of melancholy. Instead, McDonald's purity and sweetness gifted her listeners with a sense of renewal, which is really the only sensible way to straddle a difficult year and the hope that lies just around the corner.
- Peter Dobrin
Peter Dobrin, Inquirer Classical Music Critic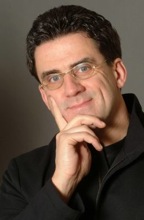 Ignat Solzhenitsyn is stepping down as music director of the Chamber Orchestra of Philadelphia. This will be his last season with the group, and then he'll become laureate. He became music director of the group in 2004 after working his way up from the assistant conductor position starting in 1994.
The Chamber Orchestra is expcted today to announce Dirk Brossé (pictured) as his successor.
The Belgian-born Brossé has been a frequent guest here, and is currently on the 50-city Star Wars in Concert tour with the Royal Philharmonic Orchestra. He has also guest conducted the London Symphony Orchestra, the London Philharmonic, the Hong Kong Philharmonic, the Seoul Philharmonic, l'Orchestre de la Suisse-Romande and others.
Peter Dobrin, Inquirer Classical Music Critic
One more chance to hear the Philadelphia Orchestra in incredible form - tonight. Here's a review.
Peter Dobrin, Inquirer Classical Music Critic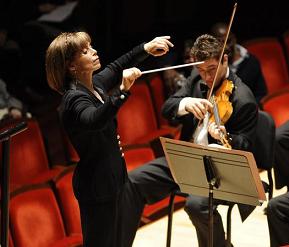 This review is scheduled to run in the physical version of The Inquirer Friday.
Nights like the one the Curtis Institute of Music had Tuesday — in which everything is going right and everyone in the room seems to feel it — are dear in the life of arts institutions, especially in tough times. The Curtis orchestra, in its first concert of the season, played with a magnificent assuredness. Much of the city's arts and civic leadership was in Verizon Hall, buzzing about the school's new dorm and orchestra rehearsal hall quickly taking shape a few blocks away.
And you couldn't help noticing that while all this spoke gamely of the future, in the audience were teachers such as Eleanor Sokoloff, charismatic Curtis piano pedagogue for nearly 75 years and living evidence that its new leadership still values the conservatory's lineage.
Of course, none of this would have mattered had the level of playing not been so high. JoAnn Falletta, music director of the Buffalo Philharmonic Orchestra, brought clarity to the Violin Concerto of Behzad Ranjbaran, order to Strauss' Don Juan, and, to Rimsky-Korsakov's Sheherazade, a surprising and lucid reanimation.
I never tire of hearing Sheherazade, in part since I don't hear it much anymore. Once a staple, it now shows up less often in concert halls. The work's youthful narrative is ideally suited to this orchestra; it asks for virtuosity, and the ensemble repays it in the form of ecstasy.
Falletta's interpretation was self-effacing. She provided a stable framework of tempos, occasionally veering away for expressive purposes, but mostly leaving individuality to unfold in the dozens of instrumental solos. William Short was not merely technically all there in the work's famous dancerly bassoon solo, but also highly individual in a way that would be notable even in a professional setting. Clarinetist Ruokai Chen placed a subtle elongation in tempo at the top of a run, transforming an excerpt lick into an artistic statement. All throughout the piece, concertmaster Joel Link, a fourth-year student, projected warmth and stability in notoriously treacherous solos.
Don Juan had great structure, though in the details was perhaps slightly prim and proper for the subject at hand. But Falletta was just right in Ranjbaran's Violin Concerto. The Tehran-born Juilliard composer might be thought of as music's magical realist. In this work — as well as in his "Persian Trilogy" — a passage can be going along at midlevel dissonance when, as if a light suddenly refracted, the orchestration turns lustrous and the harmonies seductive. You might hear film scoring in his sound. The composer himself identifies Persian modes and rhythms as inspiration, as well as the kamancheh, a traditional Persian bowed instrument.
But for the soloist, the more relevant cousins in the repertoire to this 2003 work are Barber and Korngold, whose spirit Elissa Lee Koljonen evoked in the formidable passage work. Koljonen, a 1994 Curtis graduate who studied with Aaron Rosand, is also Mrs. Roberto Diaz, wife of the director of Curtis, but her appearance on this program was no concession to family ties. She is apart from all her connections a violinist of immense presence. Technique is a given, but with a purpose. Case in point: the many fleeting moments of bending pitch and changing tone for expressive purposes. This was a knowing audience, so it might have detected her exquisite timing and precision. Or perhaps all it sensed was a violinist of considerable soul.
- Peter Dobrin