Archive: September, 2009
Peter Dobrin, Inquirer Classical Music Critic
James Levine will undergo immediate surgery for a herniated disc, his agent announced today, forcing him to cancel upcoming dates with the Metropolitan Opera and Boston Symphony Orchestra. He will spend the fall recuperating, the BSO said.
So far, Levine has withdrawn from BSO concerts in Boston Sept. 29 and Oct. 3, and from Carnegie Hall's opening night Oct. 1. Levine has also withdrawn from Tosca at the Metropolitan Opera Oct. 6 and 10.
In Boston, conducting duties will be split by assistant conductors Julian Kuerti and Shi-Yeon Sung. No announcement yet about a sub at Carnegie.
Peter Dobrin, Inquirer Classical Music Critic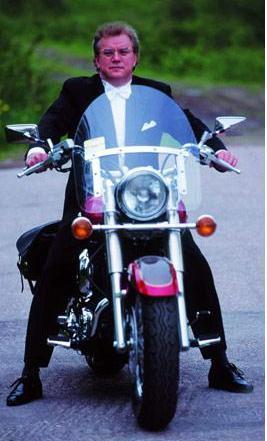 Osmo Vänskä (on bike) has signed on for an additional four years at the helm of the Minnesota Orchestra, keeping him there (at least?) through 2014-15, effectively canceling his already modest chance to become the next music director of the Philadelphia Orchestra. Mixed feelings about him, still.
Hans Graf, on the other hand, is getting ready to take his leave of Houston, committing to the Houston Symphony through 2012-13 and not a minute longer. After that, you can call him Laureate.
Swiss conductor Thierry Fischer is the new music director of the Utah Symphony/Utah Opera, succeeding Keith Lockhart. Fischer will continue his current gig as principal conductor of the BBC National Orchestra of Wales.
Peter Dobrin, Inquirer Classical Music Critic
People will tell you the average age of an orchestra-goer with approximately the same relish they use when quoting the national debt, and with a similar calculation for drama. "What?" you are expected to say. "At that rate...(insert your own apocalyptic scenario here)."
I happen to identify with the (apparently) tiny school of thought that any listener is perfectly okay. I adore the Philadelphia Orchestra's older Friday afternoon audience; they're uniquely knowing, having seen it all. But I understand the panic over where the listener of tomorrow will come from, which is why I nearly gasped upon approaching Verizon Hall last night. Hundreds of college kids were standing around outside. Not an internet-organized melee, but a swarm waiting to hear a heap of Berlioz inside.
The best thing about the Philadelphia Orchestra's free "College Night" wasn't the free food, though the announcement of its existence, waiting in the lobby as post-concert reward, did get a big round of applause. Rather, it was the programming. Charles Dutoit didn't condescend. He gave the audience of 2,000 kids exactly what the grown-ups were getting this week, and they seemed happy to hear it.
Peter Dobrin, Inquirer Classical Music Critic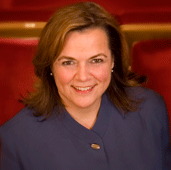 The sole candidate in the Philadelphia Orchestra's search for a new president/chief executive officer today announced that she is leaving her current post.
Allison B. Vulgamore, longtime president of the Atlanta Symphony Orchestra, has met several times in the last few months with Philadelphia Orchestra leaders and has emerged as the only current contender for the top job.
She is exiting the Atlanta orchestra after 16 years, she said, declining to speak about what her next move might be.
Peter Dobrin, Inquirer Classical Music Critic
The Boston Globe's Geoff Edgers has a lovely profile today on Ann Hobson Pilot, the Boston Symphony Orchestra's harpist who is retired. Sort of.
The piece doesn't mention it, but she attended Settlement Music School.
Peter Dobrin, Inquirer Classical Music Critic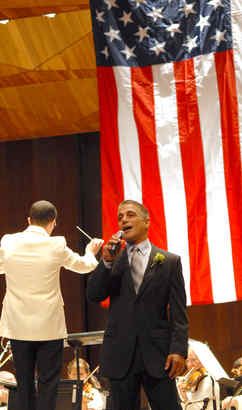 I hope no one associated with last night's "Fallen Heroes" concert at the Mann is feeling deflated this morning. While it's true that the event drew only 1,200 to hear the Philadelphia Orchestra - a number that looks mighty small at the Mann - in many ways the effort was a good model for the future.
It raised $160,000 (plus whatever donations were collected at the concert itself) for the survivors fund of the Philadelphia Fraternal Order of Police. It gathered another $250,000 in in-kind donations.
It ran entirely on volunteer steam - from the ushers, to musicians, to host Tony Danza, everyone pitched in.
Peter Dobrin, Inquirer Classical Music Critic
Stephan Salisbury has more detail on and reaction to the state's new arts tax.
It's disturbing that public officials are unwilling or unable to give tax payers the full story:
A spokesman for Gov. Rendell, Gary Tuma, said he could not confirm specific elements in the budget package. But "we cannot do a budget without pain," he said, "and there is widespread pain in this budget."
Peter Dobrin, Inquirer Classical Music Critic
In the late-night deal to end the Pennsylvania state budget stalemate, it seems the arts did not get forgotten.
They got taxed.
Look at this from the Inquirer's coverage:
Peter Dobrin, Inquirer Classical Music Critic
It's a year today since Philadelphia Orchestra president James Undercofler announced his decision to not seek the renewal of his contract, and it's been an queasy year, both for the economy generally and for the world of orchestras. Undercofler intended to finish out his contract, which would have had him leaving July 31 - a mere six weeks ago - but months ago the orchestra put an interim leader in place instead.

Frank P. Slattery Jr. may love the orchestra and may love his job, but the organization hasn't benefited by bringing in a member of the business community. One of the things boards of cultural organizations have steadfastly refused to believe is that arts administration is a legitimate and distinct profession. No one steps in and does a good job of running an orchestra or a museum without special training and hard-won experience - especially if your organization is treading water in perilous times, which, the Philadelphia Orchestra admits it is.

You can't run a music director search without a real professional who can speak the confusing code of conductors and agents. You wouldn't know how to deal with an attendance rate that's dropped to 80 of capacity unless you're immersed in the kind of audience research lifelong orchestra CEOs are. You certainly can't turn ticket sales around without a marketing director - the orchestra currently has none - and you can't hire a marketing director until you have a president.

In short, a tremendous amount of institutional ambition has been held in abeyance since Undercofler's announcement a year ago. This at a time when the economy has been in free-fall and audiences are clutching their purse-strings tighter than any other time since the Great Depression.

A search for a new president is underway, and it now focuses on a single candidate - an experienced orchestra professional who has dealt, almost scarily, with all of the same difficulties that have deluged the Philadelphia Orchestra since about 1996 - a strike, shifting plans for a new concert hall, deficits, the messy departure of a music director and unclear goals for what the orchestra wants out of summer.

Is he or she the right choice? I wouldn't presume to say.

What I do know is that it's a pathetic sight to see this great orchestra struggling the way it is. This is a moment that deserves our pity and outrage, but our action, too. Hear the orchestra this season. Hear it a lot. A new music director will likely be chosen this season, so think about what's best for the orchestra's musical future and express your opinion to the board. This is perhaps the most important time for orchestra lovers to be fully engaged.

As for a new president, if this round of the search does not bear fruit and the process has to start from scratch, it's hard to see how the orchestra will prosper again anytime soon. It will continue to lose its considerably talented administrative staff. Funders will grow even more uneasy than they are now. Mere survival will consume the attention of every employee of the orchestra every day instead of the kind of institution-changing thinking that should be going on now.

Even the brightest new president, should that leader start tomorrow, will need a long list of friends and resources to help get the orchestra through this season. He or she deserves a little faith at a time when it might be hard to grant. More than a few orchestra fans and important funders were dismayed by the way layoffs were handled earlier this year. It may be standard corporate behavior to gather staff in a conference room and then, with security personnel standing near, escort them out of the building. But the rewards for both employees and employers at cultural organizations often stem from the personal love for the thing itself - the music, the well-being of the institution. To dismiss them in this way sends the sickening signal that working for the Philadelphia Orchestra is just another job.

The orchestra needs leadership now - not in the form of a mindless cheerleader, but with the quick arrival of a clear-thinking, lifelong practitioner of classical music, a professional who can mend fences and articulate to the entire city why the orchestra is something worth saving.

At this point, a full year after the announcement of a strong president's departure, finding someone who can hit the ground running is more critical than ever.


Peter Dobrin, Inquirer Classical Music Critic

Finnish composer Magnus Lindberg (pictured) will become the New York Philharmonic's new composer-in-residence, thanks to a gift to the orchestra's endowment.
Henry R. Kravis and his wife, Marie-Josee Kravis, will give the Philharmonic $10 million, the proceeds from which (interest, market appreciation) will underwrite the newly reinistated position. The two-year post starts with opening night this Wednesday, when the orchestra will give the premiere of Lindberg's EXPO to open Alan Gilbert's first season as music director.
The Kravis gift will also endow a new music prize awarding $250,000 and a New York Philharmonic commission to a "composer for extraordinary artistic endeavor in the field of new music." The award will be given every two years starting in the 2011-12 season.