Archive: July, 2011
Peter Dobrin, Inquirer Classical Music Critic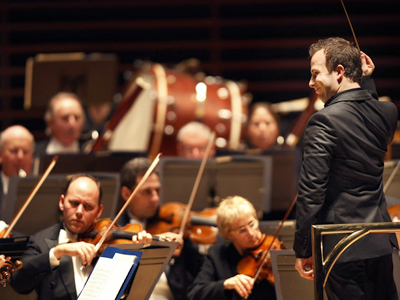 Latest on the Philadelphia Orchestra's bankruptcy case here.
Peter Dobrin, Inquirer Classical Music Critic
If you've ever had the urge to watch a woman twirl a large hoop around her tightly wrapped bun in time to Rimsky-Korsakov's "Dance of the Buffoons," Thursday night at the Mann Center was your chance.
Not that it will be your last. Cirque de la Symphonie, a jolly entertainment that pits the Russian National Orchestra against acrobats, a contortionist and one charmingly befuddled harlequin, is making the rounds. The concept isn't likely to leave us anytime soon. The Philadelphia Orchestra has two dates next week with Cirque de la Symphonie at its summer site in Saratoga Springs, and the orchestra's new strategic plan calls for development of a "cirque" type show of its own.
A Philadelphia take isn't likely to bring out Thursday's crowd of perfumed Russians and Ukrainians. You could locate the audience's Eastern Bloc when the ensemble, led by Mikhail Tatarnikov, played the "Gopak" from Khachaturian's Gayaneh. These listeners knew just what to do, breaking into spontaneous clapping — on the afterbeats.
Peter Dobrin, Inquirer Classical Music Critic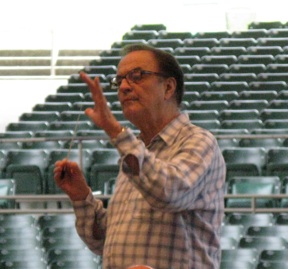 We're not hearing much of the Philadelphia Orchestra here at home this summer, but the ensemble's recent concerts with Charles Dutoit at the Festival de Lanaudière are nicely captured here.
Peter Dobrin, Inquirer Classical Music Critic
The judge in the Philadelphia Orchestra Association's bankruptcy case has handed down a compromise in the tussle between management and the musicians' union over the scope of an investigation of the Association's finances.
Noting that bankruptcy code allows broad discretion in such decisions, and is "designed to permit interested parties to 'discover assets, examin[e] transactions, and determin[e] whether wrongdoing has occurred,'" Judge Eric L. Frank issued a ruling Monday that allows the union access to documents already provided to other interested parties in the case, plus a mechanism for requesting additional documents later.
Lawyers from the pension fund of the American Federation of Musicians argued in court July 21 for access to a wide range of internal records from the past decade in a quest to ultimately assert that the Association should dip into its $140 million in endowments if it insists on withdrawing from the national union's multi-employer pension plan.
Peter Dobrin, Inquirer Classical Music Critic
In advance of today's appearance of the Philadelphia Orchestra Association and American Federation of Musicians in U.S. Bankruptcy Court, the musicians' union has filed its response to the Association's objection to an in-depth probe of the orchestra's finances.
The Association is using "stonewall tactics," and has been "stringing along" the union in talks to define to scope of the probe, the response says.
Therefore, the union argues, the court should approve the look into the orchestra's finances, which would help determine whether the Association's claim that the endowments are restricted, and cannot be tapped, is in fact the case.
Peter Dobrin, Inquirer Classical Music Critic
The Pew Charitable Trusts today announced recipients of this year's Pew Fellowships in the Arts. Each will receive $60,000 in a one- to two-year period.
They are: Charles Cohen (electronic musician and composer); CAConrad (poet); Jorge Cousineau (set designer); Joy Feasley (visual artist); Chris Forsyth (guitarist and composer); Jane Irish (visual artist, whose Oligarch Couple, 2007, is pictured here); Tania Isaac (choreographer); Pattie McCarthy (poet); Brian Philips (architect); Tim Portlock (visual artist); Matthew Suib (visual artist); and Jamaaladeen Tacuma (free-jazz bassist, composer, and band leader).
More information here.
Peter Dobrin, Inquirer Classical Music Critic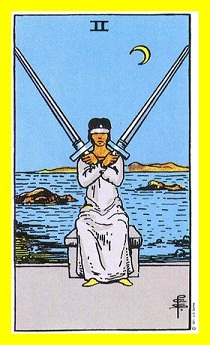 My colleague David Patrick Stearns has entered the blogiverse with Condemned to Music. His premiere jotting tracks a fast narrative involving a tarot reading, cornfields and a stint in Muncie, defining what it means to write from a Philadelphia point of view and jumping off the high dive. I suspect music will also figure heavily into his new diary. How can you not read it?
Peter Dobrin, Inquirer Classical Music Critic
Baritone Cornell MacNeil died Friday, the New York Times reports. Obituary here.