Archive: December, 2009
Peter Dobrin

, Inquirer Classical Music Critic
Peter Dobrin

, Inquirer Classical Music Critic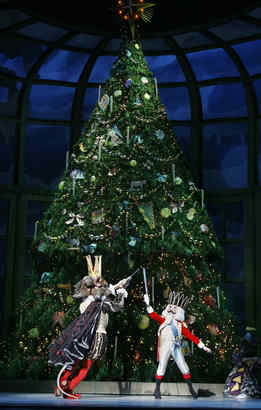 A few thoughts for which I didn't have space in today's review of the musical slice of Pennsylvania Ballet's The Nutcracker:
- It's terribly jarring to hear that stretch of non-Nutcracker music in the first act scene change. This is a Balanchine addition - this violin solo from The Sleeping Beauty - and the Balanchine Trust is orthodox in its enforcement of certain production elements. But times have changed. There's the question of being true to Tchaikovsky, too, and it's time to restore the score to its original state. The re-arrangement of the order of certain dances? Balanchine's moving of the bell chimes to another spot in the score? These are small transgressions compared to the intrusion of an entirely different piece.
- There's a lot of concern these days about finding ways to more deeply engage audiences, and after Friday night's production a line of fans waited near the Academy of Music's Green Room to catch sight of dancers leaving the hall. Ushers broke up the crowd, giving patrons the "move along, nothing to see" treatment. Here was a group of self-identifying ballet fans - some children - who wanted to connect with dance in a more meaningful way. They were asked to leave. Big lost opportunity. (BTW, about the Mouse King in the lobby offering $20 for a photo of your child on the lap of the large rodent: that's not engagement, it's a revenue center.)
Peter Dobrin

, Inquirer Classical Music Critic

In case your snow-thwarted paper carrier prevented you from being able to read an update on the Philadelphia Orchestra's music director search, here's the latest.
Peter Dobrin

, Inquirer Classical Music Critic

Two more reviews of Bruce Nauman's Days and Giorni, heard at the Philadelphia Museum of Art through April.

Here's the Inquirer's Edward Sozanski, who is underwhelmed by the audio pieces.

And then we have the New York Times, whose Roberta Smith is more or less over the moon.
Peter Dobrin

, Inquirer Classical Music Critic
The Museum of Modern Art board has voted to buy Bruce Nauman's Days in partnership with MoMA trustee Maja Oeri, who is buying the other half on behalf of the Emanuel Hoffmann Foundation, the Times reports today.
The Times article erroneously suggests that Days is a video piece, and neglects to say where it currently resides. But in fact, it is an audio sculpture (no video is involved), and you can hear it through April at the Philadelphia Museum of Art. This is one of two new Naumans unveiled at the U.S. Pavilion of the Venice Biennale. Days was already under development when Nauman and the Philadelphia Museum of Art won the Venice commission from the U.S. State Dept., and the artist then created a companion piece, Giorni, in Italian.
Both works surround the visitor with taped voices reading the days of the week. They occupy large spaces at the PMA, and provide an unexpected experience for listeners.
Peter Dobrin

, Inquirer Classical Music Critic

Vacation time, which allows me to choose CDs apropos of...well, gorgeously, nothing. Recordings pile up, in a good week, a couple of dozen at a time. They taunt me: What is Marc Albrecht all about, and why doesn't he ever conduct here? Don't you want to hear what George Crumb is up to lately?
At the top of the heap over the next few weeks are Natalie Hinderas in George Walker's Piano Sonata No. 1 and Hale Smith's Evocation; Benjamin Britten and Peter Pears in Schubert lieder; and Jessye Norman with Pierre Boulez in songs of Alban Berg.
I've been poking around for an errant Dvořák Stabat Mater to go with the recently acquired score bought at Barnes and Noble for 75 percent off. The search is inconclusive, but at least I now know that I still have in hand Muti and pianist Giorgia Tomassi in two Nino Rota (pictured) piano concerti.
Peter Dobrin

, Inquirer Classical Music Critic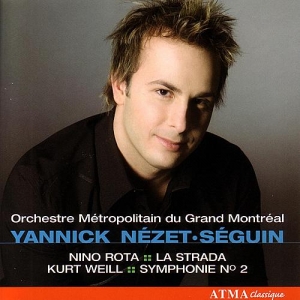 As the list of possible future music directors for the Philadelphia Orchestra remains dangerously short, the young Montrealer Yannick Nézet-Séguin returns for a second visit to the podium this week. I can't decide which is more worrisome at this point in the process - the possibility that the orchestra will take a big chance on an unproven talent, or the very real likelihood that the person offered the job will say no.
That said, I'm not sold on Nézet-Séguin, even if his stock is high. Industry sources say he will soon be announced as the Metropolitan Opera's new principal guest conductor. Even if that doesn't pan out, his career has clearly clicked, with major guest appearances all over in the near future.
Meanwhile, the orchestra still has said nothing publicly about its search criteria. Does it want the best possible conductor? A box-office star? A good fund-raiser? About the only time anyone publicly mentioned a specific desired quality was during the orchestra's annual meeting in September, when one board member said the organization was aiming for someone "young." Strange, isn't it - the idea of a major orchestra, one that hopes to affirm its place as one of the world's best, saying that age matters?