Archive: January, 2011

Milton Byron Babbitt, the intellectually trail-blazing composer who lived to see his primary musical language pass into disfavor, died Saturday in Princeton, where he lived. He was 94.
For many listeners, Mr. Babbitt's dense scores were the manifestation of ambitious and highly ordered ideas. Others knew him as the creator of a dystopian musical landscape, a theorist whose music came from - and belonged in - academia.
On this latter point Mr. Babbitt might have agreed. In a notorious essay of 1958, published in High Fidelity Magazine, he argued that the university was a serious composer's realm, and that the general concert-going public was not the proper audience for the music of such composers. The title of the essay, which overstated the author's case considerably, was "Who Cares If You Listen?"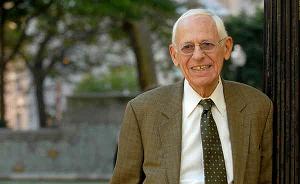 Miles Cohen, the Philadelphia Chamber Music Society's All-Around-Do-Anything-That-Needs-Doing-Guy, has determined that tonight's Jonathan Biss recital will be PCMS's 1,000th concert.
That's a heavy dose of strings quartets, pianists, vocal recitals and other small-scale instrumental collaborations that the city would have otherwise missed during the past 25 years. We've sung the praises of this smart, efficient and artistically vital organization before, but it's never redundant to highlight great things happening in the city.
If you've got a ticket to the Biss concert, take a moment to congratulate PCMS founder Tony Checchia (pictured) and his band of merry colleagues who make the music happen. If you don't have a ticket, you'll have to wait - for reasons that further point to PCMS's success. Tonight's concert is sold out.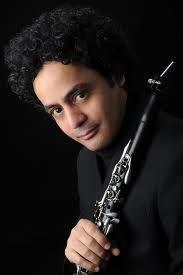 My review of accordionist Lidia Kaminska and friends was cut a bit for space, leaving out one important friend: Benito Meza, the wonderful clarinetist. So here's the full, unedited version.
Dispatch from the grass-is-always-greener department:
As classical artists increasingly crave nightclubs and hipster hangouts over art-house venues, Lidia Kaminska is hitting the concert hall strapped to a rightful denizen of the saloon – the accordion.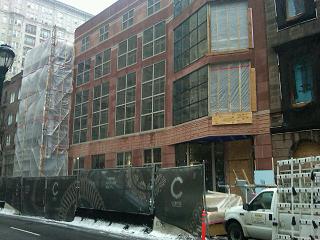 Special sound-proof, double-layer windows are in. Brownstone is in place. There's still a lot of work to be done between now and opening to students in late summer 2011, but enough detail can now be discerned of the Curtis Institute of Music annex that you can sense what kind of a new citizen Locust Street is getting. I'm not the architecture critic, and so much interior detailing lies ahead that there's no way to judge the way the building functions. But my early, provisional reaction is that Venturi, Scott Brown and Associates has designed a building of quiet individuality. The rich, cocoa-colored brownstone facade strikes a reasonable balance between fitting in and making a statement.
One significant aspect of the $65 million project is the one you can't see from Locust Street: a ten-story dorm tower set back from the front. Previous projects proposed for the site might have cast a shadow, but it looks like Venturi found a successful way to give the building mass necessary to house up to 86 students while minimizing visual dissonance on a low-rise, basically 19th-century streetscape. Curtis' new building acknowledges the 1600 block of Locust Street as a rare, intact collection of lovely, old-world materials and detailing. The project restores the facades of two flanking buildings - 1610 Locust (completed in 1893) and 1618 Locust (built around 1855) - behind which much of the new building sits.
The sensitivities, however, continue into the new construction. The fenestration of the new structure is of a sizing and pattern likely to delight some more than others. An angular bay outcropping echoes that 19th-century convention without pandering to it. But the primary material of the facade - 50 tons of Teraina brownstone, quarried in the Lake District of England and fabricated by a Wisconsin firm called Quarra Stone Co. - is an especially nice match to its neighbors. Materials are critical to the visual interest. Some of the brownstone chunks feature naturalistic swirls resembling wood patterns. Another type of stone is used for accents, and yet another for the large relief lettering stripped across a music staff on the front of the building.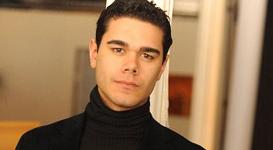 The Curtis Institute of Music went all Hollywood last night in a Paramount Studios tribute to "super agent" Ed Limato, who died July 3 of complications from emphysema. Limato wasn't an agent to classical artists, but to actors like Michelle Pfeiffer, Mel Gibson, Steve Martin, Richard Gere and Denzel Washington. So what's the Curtis connection? Longtime Curtis fund-raiser Chuck Sterne attended the tribute along with about 500 others, so we'll let him tell the story:
"Richard Gere was the first to speak. An hour later, Elton John ended it with a performance of 'Don't Let the Sun Go Down On Me.' Following Michelle Pfeiffer's warm and heartfelt tribute to Ed, Curtis trained, Canadian-born baritone Elliot Madore (Curtis grad in Voice '09, Opera '10, pictured here) sang 'Mein Sehnen, mein Wähnen' from Die Tote Stadt by Erich Wolfgang Korngold.
"Accompanied by Jeremy Frank on the piano, Elliot was amazing. You could have heard a pin drop in the massive room. Elliot selected 'Mein Sehnen, mein Wähnen' (translation, my yearning, my obsession) because, he said, 'I thought it was accessible music for the non-operatic listener, and the text was appropriate.' It was also a brilliant selection because Korngold is a somewhat of a legend in Hollywood. He's remembered for lavishly orchestrated music for films and he received an Academy Award for his score to The Adventures of Robin Hood in 1938. It so happens that Korngold was the same age as Elliot (23) when he composed the opera.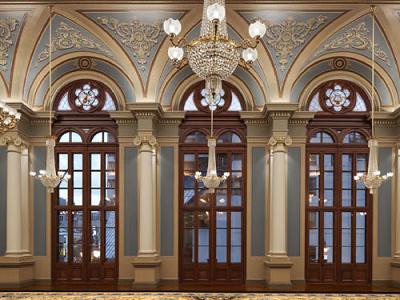 The restoration of the Academy of Music's ballroom has won an American Institute of Architects 2011 Honor Award for Interior Architecture. The nation's membership group for architects noted the hundreds of hours of research that went into returning the room to its original form. Renovations by KlingStubbins relied on a crisp black-and-white photograph of the room taken in 1860 - just three years after the building opened. Here's the way the room looks now, in a photograph by Tom Crane.
As part of the upcoming Philadelphia International Festival of the Arts (in April), Astral Artists has commissioned animation by Micah Chambers Goldberg, accompanied by a piano transcription of Stravinsky's The Firebird by Alexander Moutouzkine - and played live by him - in a film called Who Stole the Mona Lisa?" The premiere is planned for April 9 at the Kimmel. The trailer looks promising.
Reading Terminal Market shoppers were ambushed again today by opera. At noon, an excerpt from Bizet's Carmen popped out of no where, sung by both soloists and a rather large plain-clothes chorus. Listeners were startled and tickled. Once again, the event was staged by the Opera Company of Philadelphia, and underwritten by a grant from the Knight Foundation. Philly Online was there; video here.