While a good percentage of the English-speaking world was getting all hot and bothered by Bradley Cooper and Gerard Butler visibly bromancing at Wimbledon recently, the more interesting fact about this photo is the spectacled female figure in front of them. Dame Edna? No, it's pianist Mitsuko Uchida. (She is sitting, we are told by sources who know this sort of thing, next to Edward, Duke of Kent.) Fun to see her pop up at a match. But shouldn't she be practicing Schumann in Marlboro, where she is co-artistic director of Marlboro Music?
Turns out the pianist canceled her participation at Marlboro - and several concerts in the first few months of 2013 - after suffering from vertigo.
"During this winter, I have been obliged to cancel more than 8 weeks of concerts and recordings, due to illness," she wrote in a note to Marlboro colleagues. "Therefore, in addition to the cancellations I have been forced to make, I have decided for the first time in 16 years to give myself a summer break. This means that I shall not be able to come to Marlboro. I shall miss Marlboro badly. I am looking forward to spending seven full weeks in Marlboro next year."
With the c. 1960s Joshua Light Show turning and bubbling away above the Pittsburgh Symphony Orchestra, the Mann Center Tuesday night opened its very-pop-oriented orchestral season. Guitarist Warren Haynes was guest for a "Jerry Garcia Symphonic Celebration," stirring an audience of about 4,400 to dance in the aisles. This slideshow captures some moments back stage and out in the house.
Photos: Peter Dobrin/Inquirer Staff
Gary Steuer, chief cultural officer and director of the City of Philadelphia Office of Arts, Culture and the Creative Economy since 2008, has resigned. He will leave the job Oct. 1 to become president and CEO of the Bonfils-Stanton Foundation in Denver.
"Gary has provided strong and innovative leadership of Philadelphia's efforts to promote and invest in its arts, culture and creative economy," said Mayor Nutter in a prepared statement. "His work has been invaluable and I am sorry to see him go. I know that he will be the highly respected civic leader in Denver that he has been here in Philadelphia."
A new director will be sought. A city spokesman said it was not immediately known what process would be followed in the search — whether a search committee or search firm would be engaged — but Nutter is expected to consult with Steuer and Joseph Kluger, chairman of the mayor's cultural advisory council.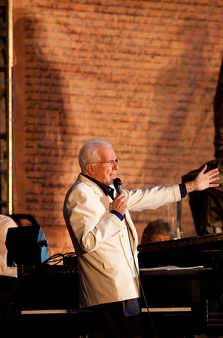 Peter Nero will lead the Philly Pops in its traditional Independence Day concert this July 3. The concert, in front of Independence Hall, is free. Nero typically does not announce repertoire in advance, but patriotic tune are promised. Excerpts from the Declaration of Independence will be read by Bill Barker, "Philadelphia's own Thomas Jefferson." The concert begins at 8 p.m., and audiences are invited to bring lawn chairs and blankets to Independence Mall, between Chestnut and Market Sts. Information: www.phillypops.org or www.welcomeamerica.com.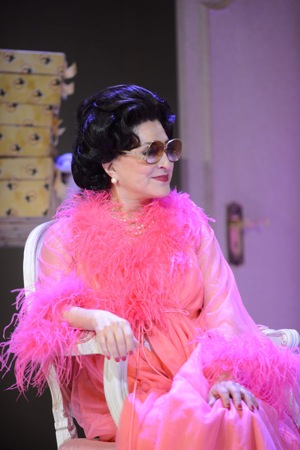 Sometimes the thing of greatest substance has a way of sneaking into the room unnoticed. This is especially true when you're being distracted by a hirsute figure in drag, or minor royalty of the nymphomaniacal variety swooping about in haute couture.
Friday night at the Perelman Theater, Opera Philadelphia pulled off its greatest piece of work this season, and perhaps in several seasons, with a gorgeously sung and smartly crafted production of Thomas Adès' Powder Her Face. Director William Kerley knew there was already enough camp and melodrama built into the unraveling of 20th century tabloid fixture Margaret, Duchess of Argyll without boldfacing its drama in hot-pink neon. More critical to making this piece the lurid masterpiece it is are the cartoons and grotesques in the score. With only 17 musicians in the pit, Adès has enough confidence in his listener to be constantly turning on a dime. If there is one stylistic rule to our time - in film, literature, architecture and music - it is that the idea that a ruling aesthetic is no more. Pluralism reigns. Composers have argued as much for decades, but surely no one has done so as emphatically, and so beautifully within the framework of single pieces, as Adès.
Powder Her Face was premiered 18 years ago, and yet its cascading pastiche now seems only more a product of our time. Any musical quote (some are vague, others overt) can and will be referenced to make a point. Adès comes up with a gloriously understated musical punch line at the conclusion of the most notoriously graphic sex act in modern opera: when the deed is done, lust doesn't lean back sated; with the soft pop of a harp, it passes like a tiny iridescent bubble.
After waiting three hours for a flight to take off in Beijing, touring musicians of the Philadelphia Orchestra serenaded fellow passengers with a little Dvorak. The acoustics are surprisingly good, though the camera operator could use some pointers. Still, this should be standard procedure on all delayed flights.
The routine sometimes has the feel of a long, repetitive march: airport, flight, diesel-infused bus ride, hotel and concert hall. Day after day, this is an orchestra tour. To the outsider the itinerary sounds glamorous: London, Beijing, Buenos Aires. But the reality is that there's little glamour to touring, and amid the fog of logistics the purpose to it all tends to get lost.
But then you get to a concert where the vibe from the audience is bright and expectant. It can happen in Boston or Ames, Iowa, that the music starts, and all the trouble of getting there melts away. The Philadelphia Orchestra – like many orchestras, in fact – feels like a gift even when alighting in places like Vienna and London, where ensembles of a high caliber are common. All the more striking are those concerts where perhaps the audience has never heard an orchestra of great power and virtuosity, and a connection is made.
The Philadelphians are in China again. This is not news in itself anymore. Like Cuba and Vietnam, the partition is down; pioneering can be that only so long before it becomes convention. (An orchestra tour to North Korea or Kabul – now that would be intrepid cultural diplomacy.) But music makes its own waves, and Inquirer music critic David Patrick Stearns is there to report on the relationship between an orchestra and country wrought of mutual need, and the collateral humanitarianism that invariably breaks out when an orchestra moves among the people.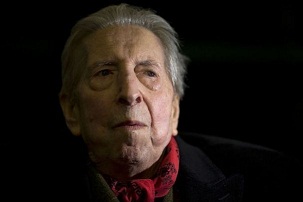 The enormously important French composer Henri Dutilleux has died, the BBC reports. More than anyone else, Dutilleux was a link to Debussy, taking ideas in that composer's late output and carrying them to their 20th century ends. His music was meticulously crafted, orchestrations filled with light, and melodic material shaped of mystery.
His music has been heard often locally. The Philadelphia Orchestra featured several of his works during the Charles Dutoit era, particularly in the 2010-11 season. The Cello Concerto was done in 1991; read a review here. Orchestra 2001 performed Mystere de l'Instant in 2011, covered here.
The Boston Symphony Orchestra commissioned works from him, including ``The Shadows of Time,'' Five Episodes for Orchestra, reviewed here.