Peter Dobrin, Inquirer Classical Music Critic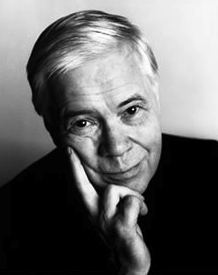 Dietrich Fischer-Dieskau, 86, the high priest of art song, has died in Bavaria.
Peter Dobrin, Inquirer Classical Music Critic
Musical flash mobs have produced their own video genre, and this example, in which Grieg sneaks up on train commuters in Copenhagen, might be the best so far. The sound quality is extremely clear, which heightens the drama. More important, perhaps, the editors chose reaction shots that gorgeously illustrate the power of music. The video has clocked more than 2.5 million views. This one is pure joy.
Peter Dobrin, Inquirer Classical Music Critic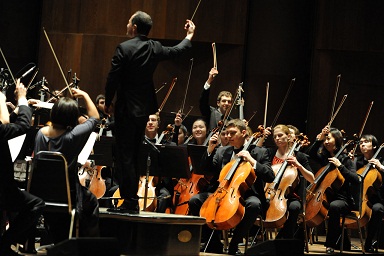 This week, 105 students from the Curtis Institute of Music play three concerts in Dresden - including one by the orchestra Tuesday (night in Dresden, afternoon in Philadelphia) to be streamed live here.
The program: Brahms. His Symphony No. 2, the Concerto for Violin and Cello (with soloists Ray Chen and Jan Vogler), the Academic Festival Overture and other works. Robert Spano conducts. Streaming starts just after 2 p.m.
To track reports on the Curtis in Dresden, look here.
Peter Dobrin, Inquirer Classical Music Critic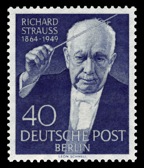 Orchestra groupies might have noticed a few interesting changes in the composition of the Philadelphia Orchestra for Thursday night's Elektra in Verizon Hall. In addition to the Wagner tubas, the orchestra was joined by a special guest playing assistant principal horn: Julie Landsman, principal horn of the Metropolitan Opera orchestra from 1985-2010. Landsman was helping out her former student, principal hornist Jennifer Montone, on the heavy-duty part.
Strauss' score calls for heckelphone, a four-foot oboe. Jonathan Blumenfeld handled the part on bass oboe. Both instruments are pitched an octave below the regular oboe.
Also, if you think you saw violists playing violin, you're right. Six violists switched to violin in the piece.
Peter Dobrin, Inquirer Classical Music Critic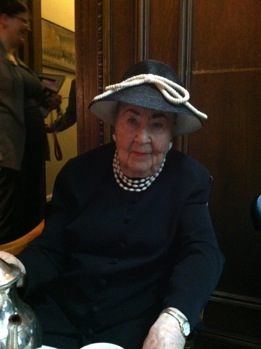 At the Curtis Institute of Music Wednesday, students, faculty, board members and other friends celebrated Eleanor Sokoloff's 75 years. Seventy-five is not her age. It's the number of years she's been teaching piano at the conservatory.
"Actually, Eleanor has been a part of the Curtis family for 82 years," former Curtis director Gary Graffman told the crowd that stuffed the lobby of Curtis' main building on Rittenhouse Square. He was counting in her first Curtis tenure as a student. "She came here as a teenage piano prodigy, and, to make a long story short, she never left."
No one knows how many pupils she's taught over the years. But at least 75 of them have gone on to play with the Philadelphia Orchestra. "No other piano teacher can begin to compete with that record," said Graffman.
Peter Dobrin, Inquirer Classical Music Critic
Maurice Sendak, 83, who became one of the 20th century's great children's book authors by recognizing in his young reader an often under-estimated sophistication for appreciating the joy and messiness of being human, died Tuesday.
Mr. Sendak's themes encompassed matters both dark and light - in not only books, but also set design and art direction for opera, ballet, TV and film - and were so diverse in tone as to suggest more than one author. And yet his creations and their aesthetic were his alone: cross-hatched figures with fangs and horns, a cherubic lad who sips chicken soup with rice through the months of the year, an objectionable boy named Pierre who only would say, "I don't care!"
In both his portrayal of the terrors of being a child and the deep flaws of adults, Mr. Sendak was a throwback to an earlier era in children's literature, when 19th century books like like Heinrich Hoffmann's "Der Struwwelpeter" lacked the sweetness and justice of a well-ordered world.
Peter Dobrin, Inquirer Classical Music Critic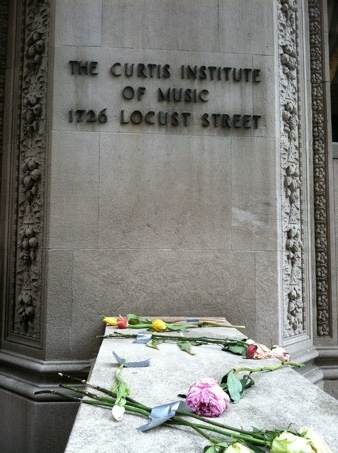 A Curtis Institute of Music student died Thursday night in the school's Locust Street dorm in Lenfest Hall, school officials said. Louisa Womack, 20, a double bass player from Rochester, N.Y., was in her second year at the music conservatory. No further information about her death was available Friday.
School faculty, students and administrators "gathered formally on Friday morning, by which time all students, faculty, and staff had been notified. Curtis's team of student services and mental health professionals has been and will continue to be onsite and available to students 24/7, and all students have been offered counseling whenever and wherever they need it," a spokeswoman said.
Curtis has curtailed its performance schedule at least through the weekend.
Peter Dobrin, Inquirer Classical Music Critic
New York radio station WQXR took down a blog post critical of the Metropolitan Opera's new "Ring" cycle after Met general manager Peter Gelb complained to the station's chief, the New York Times reports.
I guess we know who reads his reviews.
Here's Dan Wakin's piece on the episode (scroll down to May 1).
Peter Dobrin, Inquirer Classical Music Critic
This strange ballet has been playing out in my head recently: the dancers come out on stage and move in complete silence. After a minute or two, audience members start to shift around in their seats. Children lose focus and start asking "When will it be over?" Five or ten minutes of this, and people are asking for their money back.
This would only happen, of course, if, for some bizarre reason, a ballet company decided it no longer needed music. It couldn't really happen, but Pennsylvania Ballet raises the question with its marketing materials for Peter Pan, which opens Thursday. Postcards and advertisements mention Trey McIntyre as choreographer of the company premiere. But if you want to know whether there's music, you have to go the ballet's website. There you learn that there is music, and it was written by Edward Elgar.
Ballet companies routinely slight the music (as do many critics in reviews), so Pennsylvania Ballet isn't the first to commit this small crime. But isn't it reasonable to expect one art form to be respectful of another? "Music is the floor we dance on," said Balanchine. Do the musicians in the pit contribute less to the experience than dancers on stage?
So what about this Elgar score? Bernstein wrote music to Peter Pan. But we didn't know of a take by Elgar.
Turns out there isn't one. The music for this production was stitched together from various Elgar pieces. According to a ballet spokeswoman, the source material comes from: Wand of Youth Suites #1&2; Sanguine Fan; Falstaff, Symphonic study, Op. 68; "Mazurka" from Three Character Pieces, Op. 10, #1; Symphony #1, Op. 55; Pomp and Circumstance March #3; In the South (Alassio) Op. 50; The Crown of India Suite, Op. 66; and Three Bavarian Dances Op. 2.
Niel DePonte - music director and conductor of Oregon Ballet Theatre and principal percussionist of the Oregon Symphony - is the arranger.
Why doesn't Pennsylvania Ballet mention Elgar somewhere in the marketing? "Our full season brochure has info on the music for all ballets. For production-specific materials (e.g. postcards, billboards, print ads, etc.), there is not always enough space to include a composer's name," said a company spokeswoman. But if there's room for the name of the choreographer, why not the composer? And actually, there's a lot of white space on the postcard I received in the mail.
[Wednesday afternoon, ballet executive director Michael G. Scolamiero offered this response: "Pennsylvania Ballet should, in all cases, acknowledge the composer of any ballet score. It has always been my position that we do so, and I'm not clear as to why our marketing materials for Peter Pan do not reference music for the ballet was arranged by Mr. De Ponte from various Elgar scores. Ballet is nothing without music, and we at Pennsylvania Ballet are also committed to maintaining live accompaniment at a time when many companies are choosing to perform to recorded music in order to reduce costs. Thanks for pointing out this glaring omission."]
The ballet's website says that this Peter Pan comes "complete with spectacular flying sequences, swashbuckling swordfights, and costumes inspired by punk fashion." Pixie dust is also mentioned. But if there's magic in this piece, Elgar might also have something to do with it, and he deserves a little credit. As it is, he comes through in this venture as just one of the Lost Boys.
A lot of thought went into the music, says DePonte. Read on for a quick Q&A with the composer/conductor/arranger:
Peter Dobrin, Inquirer Classical Music Critic
Reed and Carlisle Sts., 4 p.m., May 1, 2012.