Peter Dobrin, Inquirer Classical Music Critic
This bike rack just arrived near the Curtis Institute's Lenfest Hall. We like.

Peter Dobrin, Inquirer Classical Music Critic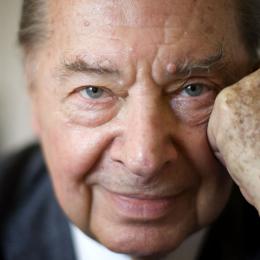 A real master of the podium is stepping down. Rafael Frühbeck de Burgos, in poor health, is retiring from conducting. A statement, via the Boston Symphony Orchestra, says:
Rafael Frühbeck de Burgos has resigned his position as Chief Conductor of the Danish National Symphony Orchestra and has signaled an immediate end to his conducting career. The 80-year-old Spaniard, who has been beset with health problems in recent months, wrote: "After meeting with my doctors I have come to the following conclusion: I have to recognize publicly that I have cancer and that in this state of health and with deep sorrow I am not able to conduct at my standards and the moment to quit professional matters has come."
Many will share his deep sorrow. In Philadelphia, few others have had his ear for drawing the best qualities from the ensemble. His concept of sound, in particular, was a special thing.
Peter Dobrin, Inquirer Classical Music Critic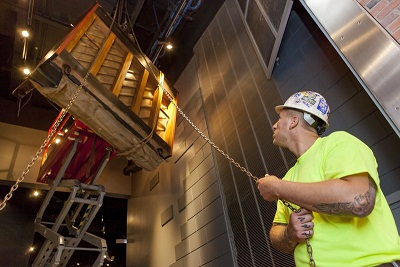 Where is this piano going? Actually, hanging in mid-air is its last stop.
It was lifted into place Monday as part of the Franklin Institute's Your Brain exhibition, opening in June in the museum's new wing. Hung by a ragged rope - seemingly - the piano, by its presence, asks visitors to make a decision: walk beneath the object, or not? It's meant to prompt people to think about how the brain weighs risk, and reacts.
The instrument, a 1930s Bond player piano by Packard, has seen the end of its playing days. It was hollowed out to make it lighter. Not that you'd ever want to find out how much lighter.
Peter Dobrin, Inquirer Classical Music Critic
The Curtis Institute of Music this week held its traditional Wednesday tea, but this one honored someone unique: Eleanor Sokoloff, who turns 100 in June. Article here.
Curtis has put together a page of tributes to Sokoloff, and has included a recording made in 1938 of her playing the Brahms-Haydn Variations with her husband-to-be, Vladimir (Billy) Sokoloff, when she was still Eleanor Blum. Listen here.
Peter Dobrin, Inquirer Classical Music Critic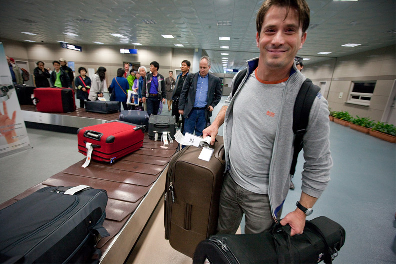 Will the new principal trombonist of the Philadelphia Orchestra be the old principal trombonist of the Philadelphia Orchestra?
It seems likely. Nitzan Haroz, 45, who left Philadelphia in 2012 to take the same position with the Los Angeles Philharmonic, won recent auditions held to fill his old position.
A Philadelphia Orchestra spokeswoman declined to comment, citing the policy of not announcing new players until after a contract has been negotiated. Said Haroz in an email: "I haven't started negotiating yet. It will happen soon I assume."
Peter Dobrin, Inquirer Classical Music Critic
"There seemed to be people as far as the eye could see. The crowd stretched in a great semicircle from the Lincoln Memorial around the reflecting pool on to the shaft of the Washington Monument. I had a feeling that a great wave of good will poured out from these people, almost engulfing me. And when I stood up to sing our National Anthem I felt for a moment as though I were choking. For a desperate second I thought that the words, as well as I know them, would not come. I sang, I don't know how."
- Marian Anderson, from My Lord, What a Morning (1956), recalling her performance at the Lincoln Memorial 75 years ago today after the Daughters of the American Revolution decreed that Anderson, because of her race, could not perform in Constitution Hall.
Peter Dobrin, Inquirer Classical Music Critic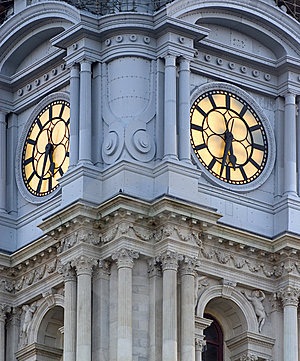 Bill de Blasio became New York's 109th mayor Jan. 1, and this week, a little more than three months into his term, he named a culture chief for the city. Tom Finkelpearl, president of the Queens Museum, will have $156 million at his disposal to spread around what the New York Times declares in an outburst of unchecked provincial pride the "cultural capital of the world" (sorry, London, Berlin, Paris and Vienna).
Here in Philadelphia, things take a little longer. Gary P. Steuer, the city's last culture czar, gave notice to Mayor Nutter about ten months ago, and Nutter still has not named a replacement. City spokesman Mark McDonald Monday said the city still plans to fill the spot. "We are actively looking for a new chief cultural officer and hope to announce in the near future," he said.
In the meantime, a signature campaign is gathering steam to restore the small amount of money the city gives out each year through the Philadelphia Cultural Fund. "As City Council works to finalize and approve the budget for FY2015, we ask that you urge them to be champions for arts & culture and restore funding for the Philadelphia Cultural Fund back to its 2010 level of $3.2 million," states the petition. The entire proposed city budget is $4.5 billion. Organizers are also asking that all culture lovers show up in person April 22 in City Council chamber to visibly demonstrate support.
Peter Dobrin, Inquirer Classical Music Critic

On his way through Philadelphia after a 14-city U.S. tour that ended Friday, Israel Philharmonic Orchestra first-chair flutist Eyal Ein-Habar looked in his overhead baggage compartment to get his flute, and found it gone.
"My flute was inside a carry on along with my computer, music scores and some more," he said. "Upon arrival it was not in the overhead compartment. I waited for everyone to leave the plane, so I could look around. But then realized there was only one bag left, not mine, and not even similar."
It is not only his main instrument - it is his only instrument. While not worth the millions old Italian string instruments fetch, it is still a potentially greater loss than a missing laptop: about $60,000, he says. Just in case you brought home the wrong bag and found something unfamiliar, it is a Powell 19.5 gold flute, with a head joint by Mancke. Ein-Habar was coming through Philadelphia from Raleigh-Durham to catch a flight to Tel Aviv.