Archive: May, 2013
Amanda V. Wagner
It was at the University of Georgia this past April that art critic Paddy Johnson from Art F City boldly told young artists not to move to New York City. Johnson, originally from Canada, but now a New Yorker herself, is not the first person to encourage young artists to shield their eyes from the glare of the city of lights.
Patti Smith made headlines in 2011, for her remark to writer Jonathan Lethem at Cooper Union, saying "New York has closed itself off to the young and the struggling. But there are other cities. Detroit. Poughkeepsie. New York City has been taken away from you. So my advice is: Find a new city."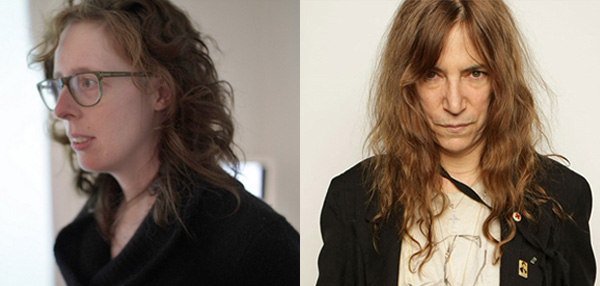 Paddy Johnson (left) and Patti Smith (right)
Julius Ferraro
A sumptuous—but inert, windless—terrace is overlooked by an iconic stone dog. Philipe insists that the dog moves. Henri, troubled by his friend's slip into madness, suggests that they drag the statue out of sight.
Gustave deliberates between the two and decides, perhaps out of boredom, that it's nicer to believe the dog is coming to life.
Tom Stoppard's Heroes is a translation and adaptation of French playwright's Gerald Sibleyras' Le Vent des Peupliers ("The Wind in the Poplars"). In it, cheerful, enthusiastic Henri, happily interned in a veterans' home for 25 years, confronts the greatest challenge to his pride and happiness when his fellow inmates choose madness over sanity.
Gabrielle Bonghi
Hilary White has been one of my favorite mixed-media artists since I first saw her work three years ago. The Texas-born, Philly-based lady has an eye for making wondrous creations out of almost anything.
Her subject matter is drawn from various aspects of faith, biblical text, science, and imaginings.
Her newest body of work–The Endless One–will be on display at Paradigm Gallery on 803 S. 4th St. from today until June 22 . Tonight's opening is from 6 pm - 10 pm.
Julius Ferraro
16-year-old me would have been shocked to see Penny Arcade creators Jerry Holkins and Mike Krahulik on Time Magazine's Top 100 Most Influential People list. In high school, Penny Arcade was among many webcomics I read, chortling at its vulgarity and intelligent, idiosyncratic commentary on the gaming industry.
Since then, they've used their growing popularity to start an annual gaming expo in Seattle, called PAX, and a kids' charity, Child's Play; they've made games, collaborated with numerous other artists, stirred up online controversy, built up a staff of about ten and an audience of 3.5 million, and become, in Time's opinion, "the tastemakers, and conscience, of an industry the size of Hollywood."
Their newest project is Strip Search: an online reality game show about webcomic artists.
Amanda V. Wagner
In 1967, the city of Detroit was drastically altered. A blemish in American history, the Detroit riots lasted four days, leaving the city in a state of utter disarray.
The deterioration spread to surrounding neighborhoods, and entire streets were left empty and abandoned. It was a local artist that reclaimed Heidelberg Street: a street in the McDougall-Hunt neighborhood on the east side of the city that gradually became neglected after the riots. Tryee Guyton founded the Heidelberg Project in 1986, and converted the street into an outdoor community art environment.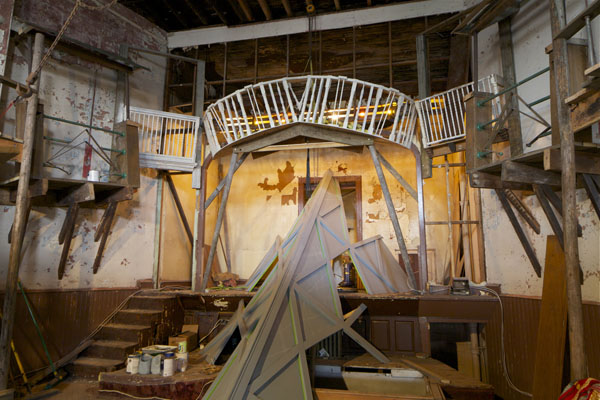 Stephanie Ogrodnik
In the Trocadero's regal theater space, once used for vaudeville and burlesque performances, it would seem fitting to screen a film on the decadence and deception in the live of Las Vegas dancers. However, this was Showgirls, and we weren't there to admire Paul Verhoeven's vision. With all pretensions of artistic criticism stripped away, lines like, "Long time ago. Doggy Chow. I used to love Doggy Chow," become as good as punch lines, as the audience laughs, groans, hangs their head, picking apart the film's follies. Even the few patrons shouting quips at the screen were welcomed as another factor in the unique theater-going experience of bad movie cinema.
Whether it is gathering together for a night of Birdemic or enjoying live comedic commentary of 'Manos' Hands of Fate, the delight in entertainingly terrible cinema has allowed for theater bookings and recognition of films that would have otherwise been forgotten. In fact, Tommy Wiseau's famously awful feature The Room has garnered a cult fan base, fueled by lively interactions with screenings akin to that of Rocky Horror Picture Show. Does this affinity signify a level of artistic value? No. Still, there may be value to the shared audience experience, as well as the growing development of comedic commentary and riffing, that has been shaped around the films that missed their mark in the cinematic art world.
"You're going there not expecting it to be anything else than what it is and making the best out of it yourself," said Kevin Murphy. "It's a whole different way of enjoying a movie." Murphy was a director, writer, and star of the show Mystery Science Theater 3000. Fans of the show, which is also known as MST3K, may remember him as Tom Servo. People have been gleefully picking apart terrible films for years on their own. However, MST3K, which ran from 1988 to 1999, and won a Peabody in 1994, was key in sparking the early interest of taking the irreverent deconstruction of blindingly awful films and expanding it to a wider audience. Though the show ended after 11 seasons, MST3K members Kevin Murphy, Mike Nelson, and Bill Corbett, alongside a team of writers and guest comedians, still do commentaries through RiffTrax. They've also been joined by dozens of other groups who continue this growing tradition, confirming a statement by Murphy that riffing is "certainly a form of comedy, now."
Alissa Falcone
As if playing four shows in 24 hours across the country wasn't enough, local pop-punk band The Wonder Years will be co-hosting a pop up store in Philly May 14 to May 17 with indie clothing brand Glamour Kills to promote their latest album, "The Greatest Generation."
Held at the space formerly known as the Stupid Easy Ideas Gallery at 307 Market Street, the pop-up shop will sell the "The Greatest Generation," which was released May 14, as well as one-of-a-kind Glamour Kills/Wonder Years goodies like denim jackets, button-down plaid shirts, tees, hats, and sweatshirts. The pop-up shop will be open during the day, and special events held later at night will include performances by The Wonder Years and some of their friends as well as a movie night hosted by two members of the band.
During the release week of "The Greatest Generation," the band will also be performing acoustic sets at record stores like the Gallery of Sound in Wilkes-Barre, Penn.; the Newbury Comics in Norwood, Massachusetts; and the Vintage Vinyl in Ford, New Jersey.
Mary Sydnor
Is there anything more exciting for a little kid than playing dress up? Put on a costume and pretend to be a fairy or a lost boy; costumes give children the chance to bring their favorite stories to life.
Local artist, Candy Coated, brought these favorite childhood memories to life at her latest exhibition. CandyCoated Wonderland is currently showing at the Philadelphia Museum of Art through November 17.
Inspired by real 19th and 20th century costumes from the PMA's collection, Candy Coated designed her own contributions: knights, hula girls, Peter Pan, and more. She adds her own unique spin with modern textiles such as colorful vinyl, gems, or silk-screened fabrics.