Archive: April, 2013
Colin Kerrigan
It's hard navigating the large schedule of PIFA's amazing events. Here are a few recommendations for upcoming events you must see!
Leah Kauffman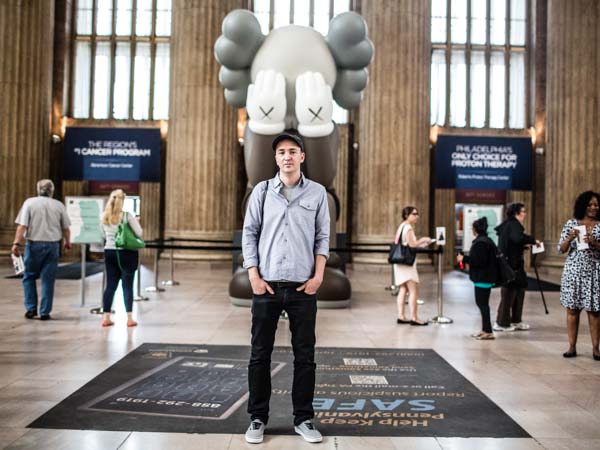 World renown artist KAWS unveiled his traveling 16-foot masterpiece sculpture COMPANION (PASSING THROUGH) at Philadelphia's 30th Street station.
Brian Donnelly, who goes by the name KAWS, was born in Jersey City. His ties to Philadelphia are not all that far; only about a 2-hour car ride. Philly.com's executive entertainment and lifestyle producer, Leah Kauffman, had the rare opportunity to sit down and chat with Donnelly on the afternoon of his sculpture's Philadelphia debut.
Mary Sydnor, Photos by Peter Woodall
Like the fading hand painted signs of Philadelphia many of Philly's oldest bars employ hand painted signage too. Fading, but still there, these signs look like they're from another era—and many of them likely are. Here are some of the most unusual, the oldest, and the funniest from around the city.
Julius Ferraro

, Art Attack
That guy in the corner over there, with the long tailcoat and wild black hair, that's Beethoven. His student, Schindler, is warming his hands up before his big performance. In the opposite corner—you spin around to see it—Josephine de Beauharnais, ex-wife to Napoleon Bonaparte, is singing to herself, with her court of ladies, and folding strips of fabric into little birds.
Five exquisitely dressed Talleyrands lurk past you on all sides, plotting the future of France, rubbing their fingers pensively and muttering. You take a few paces backward to get out of their way, but Napoleon is the one you really have to watch out for. He and his army, off to wars in Egypt and Italy, will march right through you to get where they're going.
Vainglorious, choreographed and performed with painstaking silliness by Applied Mechanics with a 26-person ensemble, plunges audience members bodily into the chaos of Europe after the French Revolution. You won't get a seat—nowhere is safe to stand for long—but you'll get a map, and a flowchart of the 90-some scenes which make up the fortunes, foibles and failures of France and its neighbors during the careers of Napoleon, Germain de Staël, and other VIPs.
Kailey Kluge
This week, music and film clash to produce Philadelphia's first film festival dedicated to films focused on music–or, more particularly, the people behind the music. The 2nd XPN Music Film Festival, organized by Philadelphia's WXPN radio station and the Philadelphia Film Society, will kicks off today and runs through Sunday, April 14.
The festival opens with "Good Ol' Freda," directed by Ryan White, a documentary on Freda Kelly, who became the Beatles' loyal friend and secretary at age 17. Kelly's story, never before told to the public, spans over the eleven years she worked for the Beatles—even though the band was only together for ten. Kelly is notorious for being one of the most loyal friends of the Beatles as she was unaffected by their rise to fame. Following the film will be an Opening Night Party featuring Philadelphia native AfroDJiak.
The rest of the lineup focuses largely on rock-n-roll, featuring mostly American and British films, as well as one Belgian film. Marc-Henri Wajnberg's "Kinshasa Kids" is a multimedia film that melds animation and documentary styles to tell the story of Congolese children who form a band to fight off accusations of witchcraft. Beth Toni Kruvant's "David Bromberg: Unsung Treasure" tells about the comeback of David Bromberg, a musician who collaborated with the likes of Bob Dylan and George Harrison but still remains obscure in the eyes of the public.
Gabrielle Bonghi
Dre Urhahn is one half of the Dutch artist duo Haas&Hahn. The pair are best known for their stunning mural project in the favelas of Rio de Janeiro.
Both their solo and partnered works are admired around the world. So admired that in November 2012 they were commissioned by the Mural Arts program to work on the Philly Painting Project–a colorful mural spanning 4-blocks along Germantown Avenue in North Philadelphia, where they mobilized local youth to paint the entire street.
Urhahn will be having an open discussion and presentation at Rutgers University in Camden, as a part of their "Finding Your Voice" lecture series. "Finding Your Voice" is an inspirational series of informal talks with young professionals about keeping a sense of purpose, creativity and committed integrity in today's work environment and is a collaborative effort between the Campus Center, Office of Campus Involvement, and Smyrski Creative.
Philly Painting Episode 2: Design Process from Philly Painting on Vimeo.
Amanda V. Wagner

, Philly.com

30 minutes before Chinatown's Fabric Workshop and Museum opened its doors to their March first Friday crowd, guest curator John G. Hanhardt addressed the museums members. "The history of 20th century art is going to be rewritten through the moving image," says Hanhardt, the statement is prefaced with a minor forewarning––he has said this before. But as one surveys the institution, from the awing crowd to the modern masterpieces featured in the exhibition, it's evident that these are not rehearsed words, instead they are the living testimony of an accomplished curator.

The exhibition is called Changing Scenes: Points of View in Contemporary Media Art and spans over several gallery floors, and two exhibiting spaces, at Philadelphia's Fabric Workshop and Museum. The pieces in the exhibition are composed of three instillations, two videotapes, and screening room in FMW's neighboring facility, The New Temporary Contemporary, that showcases six-channel videotapes, each of which harp on a critical theme––identity.

When you first enter the building you find yourself interrupting a silent exchange between two female figures. In the museums video lounge, two projections, one by VALIE EXPORT and the other by Theresa Hak Kyung Cha, dominate the lounge's paralleling walls. VALIE EXPORT's piece, Visual Text: Finger Poem (1968-1973), translates a text of Martin Heidegger's into sign language using the camera as a mode of communicating both language and ideas. Directly across from the piece, investigating representation, Cha's Permutatuions (1976), jumps between shuddering portraits of the artists' sister with a sudden appearance of Cha herself.
Mary Sydnor

, Art Attack

There's more to science than numbers and chemicals, there's beauty too. See the elegance of nature now at the Chemical Heritage Foundation in Philadelphia - 315 Chestnut St.