Archive: September, 2008
Dick Polman

, Inquirer National Political Columnist




In the closing moments of the presidential debate last Friday, John McCain said something that now seems particularly ironic. He told the folks at home that he's ready to lead; in fact, "I'm ready to get at it right now."

But the problem is that, in his eagerness to "get at it," to demonstrate his alleged political leadership skills by riding to the rescue in the Wall Street crisis, he came up with nothing. He raised the bar on his own performance by touting himself as the ultimate high-stakes problem solver, and he wound up solving nothing. In his attempt to score political points for his candidacy, to show that he can indeed excel on the economic front, he wound up damaging himself politically.
Dick Polman

, Inquirer National Political Columnist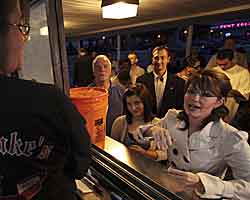 Over Labor Day weekend, during the first burst of Palin-mania (remember that?), I played the contrarian and suggested in this space that her presence on the Republican ticket was actually "a cosmic joke on the electorate." Little did I know.
The latest misadventure of America's not ready for prime time player transpired at a cheesesteak store in Philadelphia the other night. As she awaited her order (with fried onions), a Temple University grad student asked her whether she thought it would be appropriate for American troops to cross the border from Afghanistan into Pakistan, in pursuit of terrorists. She quickly declared, in a response captured on video and circulated by CBS News, "If that's what we have to do to stop terrorists from coming any further in, absolutely, we should."
Dick Polman

, Inquirer National Political Columnist

The first presidential debate, bottom line: Barack Obama, while not exactly delivering a standout performance for the ages, essentially dueled John McCain to a draw. Obama was slightly ahead in the polls when he took the stage - the first Democrat since Bill Clinton in 1996 to enter debate season with a lead - and he did no damage to his position. He twisted a number of facts along the way (as did McCain), and he blew a few golden opportunities to score points, but he appeared to exude sufficient confidence on foreign policy to dispel some of the public doubts about his readiness to command. Basically, Obama was ahead going in, and a tie generally benefits the guy who was ahead.

There's a rough parallel to 1960. JFK went into the first debate as the perceived inexperienced candidate (despite his nearly 14 years on Captiol Hill, whereas Richard Nixon was widely seen as the seasoned candidate on foreign policy, having spent eight years as Dwight Eisenhower's veep. Kennedy demonstrated that he could stand toe to toe with Nixon and converse just as articulately about foreign policy - his style was arguably better than his substance; his warning about a "missile gap" with the Soviets was factually bogus - and his poise and confidence dispelled some of the public doubts about his readiness to command.
Dick Polman

, Inquirer National Political Columnist


News item, Friday morning: John McCain says he's satisfied with the progress on the bailout talks in Washington, and therefore intends to debate Barack Obama tonight in Mississippi.

McCain's statement, after it is scanned by the hogwash detector: "Well, it looks like I just crashed another plane. First I tried to duck the debate by claiming that I had to put 'country first' by going to Washington to lead the bailout negotiations, and by claiming that I would refuse to debate unless or until a bailout deal was done. But now here I am declaring my intention to debate even though a bailout deal is not done. Maybe nobody will notice that I am cutting and running from my own pledge; maybe nobody will notice the pledge itself was just political cover for cutting and running from the debate. No such luck, I guess. Even Laura Ingraham said on the radio that my no-debate strategy was 'gimmicky' and 'a huge mistake.'

"What a relief to get out of Washington. If I stayed too long and signed on with Bush and the Democrats, my conservative base would call me a big-government socialist and the press would call me chicken for dodging the debate. If I stayed up there and sided too visibly with the conservative House Republicans, and a deal got scuttled because of them, I could get blamed later for precipitating a Great Depression. My friends, this economics stuff sure is complicated, and I hope none of it comes up at the debate tonight.
Dick Polman

, Inquirer National Political Columnist
Barack Obama, while assessing John McCain's attempt to cut and run from the Friday night presidential debate, contended yesterday that both candidates have ample time to shuttle between the Washington crisis and the Mississippi showdown. Indeed, he said, "It is going to be part of the (next) president's job to deal with more than one thing at once."
Perhaps this is the kind of multi-tasking that Obama was talking about:
Dick Polman

, Inquirer National Political Columnist

News item, Wednesday afternoon: John McCain announces that he is "suspending" his presidential campaign in order to return to Washington and help honcho the Wall Street deal - and he requests that the first presidential debate, scheduled for Friday evening, be canceled/postponed/suspended.

McCain's statement, after it is scanned by the hogwash detector: "It's clear that my poll numbers are crashing this week - even the Fox News pollsters have me going south - so I've got to try to do something, anything, to stop the slide. Which is why I want to stage a retreat from the first debate. Politically, the timing is very bad for me. I sure don't want to stand at some lectern and watch that upstart mock me for saying that 'the fundamentals of the economy are strong.' I don't want to be asked why I switched overnight from my long-held belief in deregulation to my newly-held belief in regulation. And I don't want Obama to remind people that he gave a speech, way back in March, talking about lax oversight of the sub-prime crisis and calling for major reform of regulatory policies. I know it's supposed to be a foreign policy debate, but there's no way this economy thing is going to be kept out.
Dick Polman

, Inquirer National Political Columnist
Some new numbers are out, and they show John McCain defeating Barack Obama by a margin of 13-1.
But this isn't about votes. It's about cars.
Dick Polman

, Inquirer National Political Columnist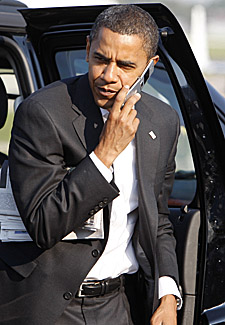 The debate season is nearly upon us - it starts this Friday evening, and ends on Oct. 15 - and it's not hyperbole to suggest that the outcome of this presidential election could hinge on a few defining moments or lingering impressions. Substance takes second priority, as we have generally seen before.
Not even the most dedicated political junkie can quote anything that was said during the first TV-era debates, between Kennedy and Nixon, in 1960; what mattered that autumn was Kennedy's telegenic poise, in contrast to Nixon's pallor (he had been sick, and he refused the offer of decent studio makeup). The '76 debates turned on President Ford's verbal blunder about Poland. The '80 debates turned on Ronald Reagan's "there you go, again." The '84 debates turned on Reagan's quip about his opponent's comparative youth. The '92 debates turned on the senior President Bush's impatient glance at his watch. The '96 debates between Bill Clinton and Bob Dole were a snooze, and I know, because I was there. The '00 debates were about Al Gore's condescending sighs, which fatally turned off a lot of women voters.