Archive: May, 2009
Dick Polman, Inquirer National Political Columnist
Every political party needs a bogeyman (or bogeywoman). It's not yet clear whether the Senate Republicans will tap Sonia Sotomayor as their designated enemy - thus far, they have been verbally circumspect (rightly so, given the strong support for Sotomayer in the latest polls) - but it's quite clear, in the other chamber, that the House Republicans have settled on their own bogeyperson. They're hoping to boost their lowly political fortunes by demonizing Nancy Pelosi.
The goal is to gain seats in 2010 by framing those House elections as a referendum on Pelosi. I question whether such a strategy will work - the Democrats tried and failed to frame the 1996 House elections as a referendum on Speaker Newt Gingrich - but we're talking here about a party with few viable options. Going after Pelosi is therefore a predictable choice, however imperfect.
Dick Polman, Inquirer National Political Columnist
I'm sticking with the Sonia Sotomayor story for the rest of the week, in case anyone wants to tune out now. As with all Supreme Court nominations, the initial flow of news is simply too copious to ignore. But here's the bottom line on this nominee:
Barring some stunningly adverse and unforeseen revelation (such as, she employed an illegal immigrant and didn't tell the White House; or, she didn't pay her taxes and didn't tell the White House), it's a virtual certainty that she will be confirmed. The Republican right will slash away, Newt Gingrich and Rush Limbaugh will stay in hyperbolic overdrive, conservative legal groups will raise a lot of money, GOP senators will furrow their brows and ask probing questions in committee, but in the end, she ascends.
Dick Polman, Inquirer National Political Columnist
Notwithstanding Sonia Sotomayor's professional qualifications for the U.S. Supreme Court - crime prosecutor, corporate litigator, federal judge - it's clear that President Obama also hopes to leverage her nomination for maximum political benefit. At the very least, he's hoping in the short run to gain some good will with the Hispanic community.
Policy fused with politics - that's how the game is played.
Dick Polman, Inquirer National Political Columnist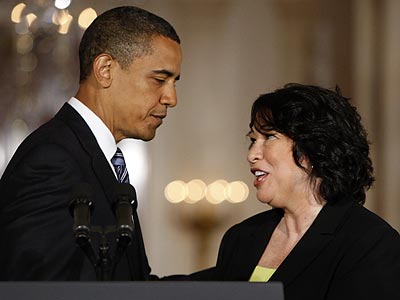 Back on May 5, in this space, I wrote: "It's hard to imagine that the Senate Republicans would try to filibuster any female nominee who has the requisite legal qualifications - particularly if that female also happened to be Hispanic (federal appeals judge Sonia Sotomayor, who grew up in a New York housing project and would naturally bring a new experiential perspective to the court)."
Now that President Obama has indeed chosen Sotomayor, let's see how the Republicans play it.
Dick Polman, Inquirer National Political Columnist
And you're here because...why?
The holiday continues. See you on the flip side.
Dick Polman, Inquirer National Political Columnist
Regarding President Obama's national security speech yesterday, I was particularly struck by the shots he took at the bed-wetters in his own party.
As noted previously in this space (albeit with tongue in cheek), Senate Democrats on Tuesday fell to their knees and canceled the money to close Guantanamo, apparently out of fear that fear-mongering Republicans might somehow convince Americans that the terrorists might wind up roaming the land at will, laying siege to our peaceful burgs. (The GOP's message is merely an update of its infamous Willie Horton TV ad about the furloughed black rapist. And the Democrats, despite their recent successes, apparently still think it's 1988.)
Dick Polman, Inquirer National Political Columnist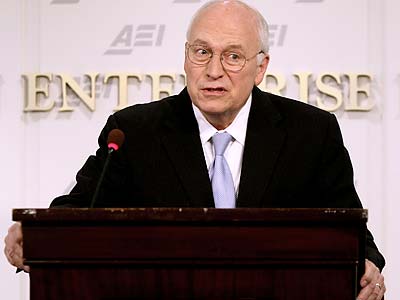 "Prison Break, The Next Generation"
Story treatment for a new TV pilot
Written by the Republican party
In order to best communicate one of our core messages - that Obama and the Democrat party, by closing Guantanamo, will allow freed terrorists to wreak havoc on American soil and destroy the values that Americans hold dear - we have decided to explore a new media platform, the prime-time television drama. What follows is our proposal to reboot a popular Fox show, "Prison Break." The finale aired earlier this month, but now the story continues:
Dick Polman, Inquirer National Political Columnist
My Sunday print column, expanded and updated with yesterday's developments:

Roughly five dozen Americans have died in mass shootings since the beginning of March, so naturally the details tend to blur. Nevertheless, the Pittsburgh incident stands out. On April 4, some nutcase with a private gun arsenal wigged out at his mother's house, killed three city cops, and held off a SWAT team for several hours with the help of his AK-47 assault rifle.