Archive: August, 2008
Dick Polman, Inquirer National Political Columnist
This is an expanded and revised version of a Sunday print column that ran this morning. I'll be off duty tomorrow, for the holiday. Back on Tuesday.

At least in symbolic terms, John McCain has already taken the first big step toward putting his imprint on the Republican party.
By picking a young female governor and mother of five as his running mate, he is signaling his intention to shake things up and scrap the traditional GOP paradigm. Indeed, that is his prime task this week at his national convention, as he seeks to position his candidacy for the autumn presidential race. He rightly decided that he needed to effectuate a marketing overhaul, if only because the Bush-Cheney team has damaged the party "brand" so badly.
Dick Polman, Inquirer National Political Columnist
Regarding John McCain's choice of Alaska Gov. Sarah Palin as his running mate, here's what I wrote five weeks ago, when I put her on a list of possibilities: "As the first woman to run that state, she's a potential mold-breaker...She has conservative credentials for the base (she has signed a lot of budget cuts, and she's a lifetime NRA member). She's enormously popular at home, typically drawing support from 85 percent of the citizenry. She's colorful and young. She eats mooseburgers, rides snowmobiles, amd smoked pot when it was legal in Alaska. And not that this matters at all, but she's a former beauty queen; in the words of conservative commentator Jonah Goldberg, she might help draw the voters of 'visually unimpaired heterosexual men.'"
Well, that doesn't quite scratch the surface. So here's a bit more about pluses and minuses. I'll have more to say in a Sunday print column, which will be cross-posted in this space.
Potential upsides: She's a reformer (among other things, she canceled the infamous "bridge to nowhere" pork project), and that could help McCain reclaim the reform/maverick image that he enjoyed before he commenced his rightward pandering. She's beloved in the anti-abortion community. As a western governor, she might help McCain compete more effectively in some of the western states that could prove crucial in November. In terms of symbolism, her presence on the ticket (as the first female GOP candidate, and a mother of five besides), she shakes up the usual Republican paradigm and perhaps could help McCain attract some of the independent suburban women who are cool to Barack Obama. Over the next week, at the GOP convention, she's going to be a great story.

Potential downsides: She's been a governor out there for a grand total of two years, with zero Washington experience, thereby raising the question of whether she has the qualifications to reside one heartbeat away from the presidency in the 9/11 era; in other words, her presence might make it tougher for McCain to wield that same argument against Obama. McCain has said repeatedly that defeating al Qaeda is the seminal issue of our time, yet now - at age 72 - he thinks that Palin has sufficient credentials to wage that fight in the wake of any temporary or permanent incapacity. Seeking to defend her already, the McCain camp points out that she commands the Alaska National Guard (which is a bit rich, since the Republicans laughed at Bill Clinton in 1992 because he had merely commanded the Arkansas National Guard.) We'll have to see how she fares on foreign policy in her debate with Joe Biden. If things go wrong for McCain in November, she could wind up in the history books alongside Bill Miller, the Republican running mate in 1964.
Dick Polman, Inquirer National Political Columnist
DENVER - We all know about Barack Obama's strengths as a candidate, notably his eloquence in stadium settings, and his gift for stirring the mutitudes. So it's no surprise that he basked with ease last night amidst the silver strobes of the flashbulbs that detonated from all corners of the field. As the best performance artist since Bill Clinton, he was expected to excel at his craft, and he did.
Far more interesting, during this historic acceptance speech, was the way he sought to tackle his perceived weaknesses and convert them to strengths, thereby (he hopes) erasing some of the image baggage that has weighed him down these many months. It's like he went in with a list of tasks, with the aim of checking them off one by one. There's an old political adage about how it's smart for a politician to acknowledge vulnerabilities, either directly or implicitly – as the saying goes, to "hang a lantern on your problems" – if only to demonstrate self-awareness and make the necessary corrections.
Amidst the spectacle, with the audience undulating like wheat in the wind, that's precisely what Obama set out to do. For instance:
Dick Polman, Inquirer National Political Columnist
DENVER - Here at Invesco Field, awaiting the Obama acceptance speech, there's plenty of buzz about John McCain's impending vice-presidential pick. Granted, you do tend to chew over every conceivable topic while shuffling along in a security line for 60 minutes; nevertheless, I am struck by the substantive challenges facing the GOP nominee. Consider:
If he chooses either Joe Lieberman or Tom Ridge (both pro-choice), he triggers a revolt in his own party...and forefeits the talking point about "Democratic disunity."
If he chooses the wealthy, multi-housed Mitt Romney, he forfeits the talking point about how the Democrats are elitists with no connection to the common man. (To quote GOP strategist Ed Rollins, "Twelve houses between them, two rich guys, it's almost like shooting fish in a barrel.")
Dick Polman, Inquirer National Political Columnist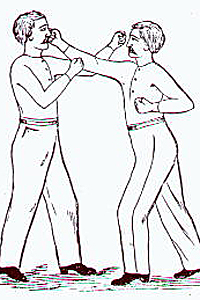 When Joe Biden was an undersized kid in Pennsylvania coal country, he relished a good scrap.
Granted, the Democrats this week are talking so much about "the scrapper from Scranton" that the moniker is already threatening to become a cliché, and hence devalued. But it just so happens that childhood stories about Biden are truly abundant – as first reported 16 years ago by Richard Ben Cramer, in his seminal book on campaign politics, What It Takes.
For instance: "Joey was always quick….Once Joey set his mind, it was like he didn't think at all – he just did. That's why you didn't want to fight him. Most guys who got into a fight, they'd square off, there'd be a minute or so of circling around, while they jockeyed for position. Joey didn't do that. He decided to fight – BANGO – he'd punch the guy in the face."
Dick Polman, Inquirer National Political Columnist
Well, there goes the Republican talking point about Democratic "disunity."
When Bill Clinton is on, there is still nobody (except perhaps Barack Obama) who can match his gift for hitting the rhetorical sweet spot. For this reason alone, he has long driven the Republicans crazy. Lately, of course, he has also driven a lot of Democrats crazy (cue the litany of grudging remarks about Obama), but you all know that story. And that was the story he had to erase tonight. And he did, delivering what is arguably one of his finest political speeches - succinct, selfless, and focused. Even the Republicans would have to admit that, purely as a piece of political communication, the Clinton address (which he reportedly wrote himself) effectively accomplished a number of crucial tasks:
1. He vetted Obama on the readiness question in ways that Hillary last night did not. Perhaps they deliberately divvied up the chores in advance, and decided that Bill should take that task; perhaps she felt less comfortable doing it, given her past attacks. The bottom line is that Bill said the magic words, bestowing the Clintonian blessing: "Barack Obama is ready to lead and to restore America's leadership in the world...Barack Obama is ready to be president of the United States." That's enough to trump the sour remarks he made recently to ABC, when he dodged a question about Obama's readiness by grumbling that nobody is really ever prepared to be president.
Dick Polman, Inquirer National Political Columnist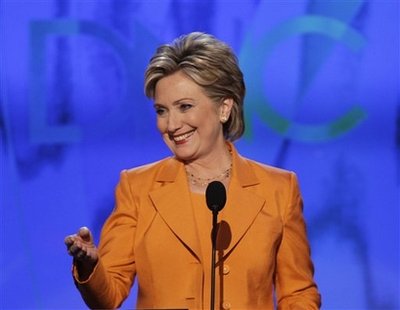 DENVER - Many of my press colleagues seem to believe that Hillary Clinton last night delivered a "full-throated endorsement" of Barack Obama (to quote one story), and that she did so "emotionally and definitively" (to quote another).
I strongly beg to differ.
It was little more than a generic party endorsement; in essence, she said merely that her followers should fall in line behind Obama because he is a Democrat, she is a Democrat, they are all Democrats, and the bad guys are Republicans. She had great things to say about the party, and she made it clear that Obama agrees with her about the mission of the party. But she had virtually nothing of a personal nature to say about Obama, other than a fleeting reference to his early stint as a community organizer.
Dick Polman, Inquirer National Political Columnist

DENVER - Democrats are trying to have some fun at John McCain's expense by passing out oversized buttons emblazoned with the slogan, "Ask Me How Many Houses I Own" - they're suddenly ubiquitous on the 15-block downtown pedestrian mall - and some of the politicians are working the topic into their conversations. When McCain's name came up during a panel discussion earlier today, Minnesota Senator Amy Klobuchar quipped, "People who live in seven houses shouldn't throw stones." And when Kansas Governor Kathleen Sebelius got to the convention podium early this evening, she joked that McCain has added new lines to an old American homily: "There's no place like home. And a home. And home. And home."
So what is McCain's latest strategy to blunt the potential damage of his admission that he can't enumerate the family residences without the assistance of staff?
Play the POW card, shamelessly so.