Archive: October, 2008
Dick Polman

, Inquirer National Political Columnist

Granted, there's a fairly important national election next Tuesday. However, there is also a fairly important civic parade in Philadelphia today – as evidenced by all the Rollins and Moyer and Victorino and Utley and Hamels and Howard shirts currently bobbing past the window – and if I tarry here too long, the festivities will pass me by. So I'm going to dip quickly into the e-mailbag, and leave it at that:
Dick Polman

, Inquirer National Political Columnist

The very first image in Barack Obama's 30-minute infomercial was, quite literally, amber waves of grain. The second image was the flat heartland under a big sky. Then we saw Obama shaking hands with regular white people. Then we heard his voice on the soundtrack, plucking the traditional upbeat chords: "I still see optimism, and hope, and strength." Then we saw Obama in a home office, with roughly the same contours as the Oval Office, decorated with an American flag.

All this Americana was hardly subtle, but I doubt it did him any damage last night. Quite the contrary, perhaps. Obama's reported $4-million-plus outlay – bestowed upon seven TV networks - may well have helped some wavering and undecided voters feel a tad more comfortable with the newcomer in these final hours. Which is what Obama was hoping to achieve anyway. After all, if you've got oodles of dough to spend (thanks to his decision to forgo public financing, despite earlier indications that he would accept that spending ceiling), why not go after every last fence-sitter and try to run up the score? Or, if Obama's prospects are more precarious than commonly believed, why not spend money to perhaps stop those fence-sitters from breaking for John McCain?
Dick Polman

, Inquirer National Political Columnist

It's a busy day, so brevity is a must. Let's just check in on the latest news about Joe the Plumber, who is coming to epitomize the dearth of intellect in the McCain campaign.

It was bad enough when John McCain severely damaged his electoral prospects, by nominating, as his vice president, somebody who knows virtually nothing about domestic and foreign policy...although, in Sarah Palin's case, one could argue that she at least has held elective office and grappled on some level with some issues. But the slippery slope to ignorance is indeed precipitous, to the point where now we have the unlicensed Samuel Wurzelbacher speaking at a McCain rally in Ohio - and agreeing with some audience simpleton that "a vote for Obama is a vote for the death of Israel." So said the simpleton, to which Wurzelbacher chimed in, "I'll go ahead and agree with you on that."
Dick Polman

, Inquirer National Political Columnist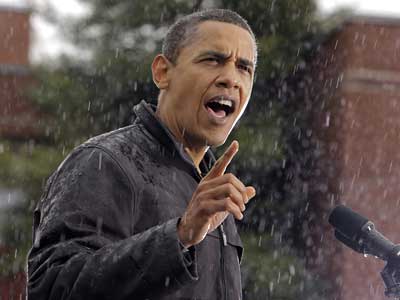 Democrats no doubt are tempted to feel giddy about the impending election, given the fact that each day seems better than last. Consider what's happened since the weekend, for instance. In the wake of a federal trial verdict, the Republicans are now saddled with a convicted felon on the Senate ballot in Alaska; in Pennsylvania, various GOP dirty trickster apparatchiks are trying to disclaim any responsibility for an email message to Jewish voters that warned of a second Holocaust if Barack Obama is elected; in red-state Montana, of all places, the presidential race is so tight that the Republican National Committee has decided to run ads for John McCain; and as a symptom of the deteriorating mood in the GOP campaign, one McCain aide has anonymously told Politico that Sarah Palin is a "whack job," and a McCain aide has trashed her as a "diva," telling CNN: "She does not have any relationships of trust with any of us...Divas trust only unto themselves, as they see themselves as the beginning and end of all wisdom."
Yes, at this point, many Democrats are probably daring to entertain the thought that their candidate is home free - barring, of course, any eleventh-hour disaster, such as YouTube footage of Obama conspiring with Bill Ayres and ACORN to place a dirty bomb on the doorstep of Joe the Plumber.
But, as a hedge against overconfidence, I would suggest that Democrats call up the C-Span video library, and watch the proceedings of an Ohio focus group, conducted several days ago by pollster Peter Hart. The 12 folks in attendance were all undecided voters, all hailing from Lake County, a bellwether white working-class county in one of the most crucial battleground states. Granted, this was not a scientific sampling; indeed, as Hart wrote later in a memo, these people represent "a very, very small slice of the total Ohio electorate." Nevertheless, Hart observed, ""the purpose is not to count noses, but to hear what is going on in their heads."
Dick Polman

, Inquirer National Political Columnist

To borrow a common senatorial phrase, I have reviewed my Sunday print column and decided to revise and extend my remarks:

When conservatism was riding high during the Reagan era, the Gipper himself decreed that no member of the movement should speak ill of another. Presumably, he would be appalled by the current conservative propensity for circular firing squads.
Dick Polman

, Inquirer National Political Columnist


I'm traveling today, with scant time to ruminate at length in the usual way. But what I saw last night, on my hotel room television, should suffice for now.

The Republican running mates were being interviewed by Brian Williams on NBC, and at first I was reminded of the climactic scene in Animal House when the college marching band heads down a dead-end alley, collides with a brick wall - and, as bodies and instruments fall every which way, it keeps belting out the same pre-programmed music.

For instance: Having hit the wall in his campaign, there was McCain, still talking about…Bill. Ayres. again.
Dick Polman

, Inquirer National Political Columnist

In one of those spasms of self-delusion that typically afflicts a desperate campaign, the John McCain strategy team has apparently convinced itself that (a) the candidate can win Pennsylvania, and (b) that he can pull it off by tapping his purportedly strong popularity in the four populous suburban counties that surround Philadelphia. Mindful that the Philadelphia suburbs are chock full of socially moderate, independent-minded voters, one McCain insider told Politico yesterday that "McCain is more like a (Tom) Ridge than a Bush," referring to the former two-term Republican governor, who did well in the burbs. "That gives suburban voters a comfort level with (McCain). He's a different kind of Republican in so many ways."

This is precisely what I mean, when I talk about self-delusion. The four suburban Philadelphia counties, once reliably Republican, have been steadily trending Democratic since the dawn of the Bill Clinton era, and one big reason for this - as repeatedly explained to me back in 2004, when I interviewed a slew of ex-Republican suburbanites who had switched their registrations - is the steady rightward tilt of the GOP on social issues. These voters were turned off by the heavy influence of the religious right, and the national party's moralistic opposition to abortion, gays, and stem-cell research.
Dick Polman

, Inquirer National Political Columnist

A guy named James Tobin was indicted by a federal grand jury the other day on two counts of lying to the FBI. You will soon see why this is relevent.

As John McCain continues his apparent death spiral - the newly-released Pew poll puts Barack Obama on top nationwide by 14 percentage points; the new NBC-Wall Street Journal poll puts Obama ahead by 10 - he remains fixated on a number of faux issues that are getting him nowhere. One of the most prominent, of course, is his claim that the community group ACORN is "maybe perpetrating one of the greatest frauds in voter history in this country, maybe destroying the fabric of democracy." There's no need here to debate whether ACORN's sporadic screwups during voter signup season actually constitute a clear and present danger to the body politic, since McCain's hyperbole has already been dismissed by some noteworthy Republicans, including Florida Gov. Charlie Crist and his Republican secretary of state. Suffice it to say that, on the belly laugh scale, McCain's heavy breathing about ACORN ranks just below Meg Ryan's heavy breathing in the fake orgasm scene in When Harry Met Sally.