Archive: January, 2010
Dick Polman, Inquirer National Political Columnist
State of the Union theater, in three acts:
Barack Obama's conservative critics were predictably steamed on Wednesday night, when the president had the temerity to describe the steaming pile that George W. Bush dumped in his lap. This passage, for instance: "At the beginning of the last decade, America had a budget surplus of over $200 billion. By the time I took office, we had a one-year deficit of over $1 trillion and projected deficits of $8 trillion over the next decade. Most of this was the result of not paying for two wars, two tax cuts, and an expensive prescription drug program....That was before I walked in the door."
Dick Polman, Inquirer National Political Columnist
President Obama's State of the Union speech was studded with newsy passages - shout-outs for nuclear power (when was the last time a Democrat did that?) and capital-gains tax cuts (shades of George H.W. Bush) and partial domestic spending freezes (we hear you, Massachusetts) and community college revitalization (important to the children of modest-income families) and open military service for gay people (one sentence, but finally)...plus a verbal smackdown of the corporate-friendly judicial activists swaddled in their robes just a few feet away.
Nevertheless, what struck me most were these numbers: 7127 and 516.
Dick Polman, Inquirer National Political Columnist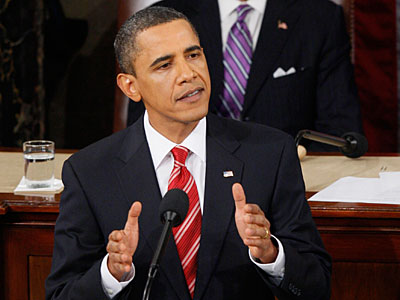 Dick Polman, Inquirer National Political Columnist
So here we go again. The airwaves and dead trees and blogs are replete with partisan and punditized advice about What Obama Should Do. Forgive me for experiencing a deja vu.
This kind of advice spilled forth in abundance during the spring of '08, when Obama's presidential primary bid stalled in the Rustbelt, mostly because of the race issue and Jeremiah Wright; and again on the eve of the Democratic convention, when Democrats melted down in fear that Obama wasn't "connecting" with everyday folks. In both instances, however, Obama himself quelled the cacophony about What Obama Should Do by delivering highly effective, even visionary, speeches.
Dick Polman, Inquirer National Political Columnist
As the latest manifestation of Democratic woe, most commentators are citing Beau Biden's Monday decision to forego a bid for the Senate in 2010. True that. When the vice president's own son confesses reluctance to seek the seat long held by dad, in a deep-blue state such as Delaware, then, yep, that's surely a sign of trouble for the majority party.
But I prefer to look at Illinois, where President Obama's old seat is up for grabs in November. The Democratic Senate primary election will be conducted for one week from today, and the odds are very strong that the winner - and, therefore, the Democratic candidate this fall - will be a guy with more heaping baggage than ex-governor/celebrity/clown Rod Blagojevich.
Dick Polman, Inquirer National Political Columnist
My Sunday print column, updated and expanded:
To really appreciate how far the political pendulum has swung, let's check in with Chris Matthews. Two winters ago, the hyperbolic cable host was all atingle about Barack Obama, to the point where "I felt this thrill going up my leg." But last Tuesday night, when a heretofore obscure Republican state legislator named Scott Brown jolted Obama by snatching Ted Kennedy's Senate seat, Matthews was like a puppy on uppers. Before the polls had even closed, he was grooming Brown for immortality: "Does he have a hot hand politically, to run for the nomination for president next time?"
Dick Polman, Inquirer National Political Columnist
Remember how conservatives always complain about "unelected judges" who "legislate from the bench" and "make the law?" Remember how they always insist that judges should respect judicial precedents, bow to the wisdom of our elected legislative bodies, and respect the literal wording of the Constitution? Remember how they restated their convictions last summer while trying to tag Sonia Sotomayor as an "activist judge?"
Well, there was an historic development at the U.S. Supreme Court yesterday: Five Republican appointees, constituting a narrow majority, decreed that the political playing field shall henceforth be tilted in favor of the special interests with the deepest pockets - namely, the corporations of America, which, until yesterday's ruling, had been barred by law from pumping their money directly into election campaigns ever since 1907.
Dick Polman, Inquirer National Political Columnist
Put your hands together for John Edwards.
At a moment when so many of us are embroiled in a Deep Think about the impact of the Massachusetts Senate results on the Obama presidency and the future of our republic, along comes America's cad to peel away yet another layer of his lies. Presumably, the final layer.