Archive: April, 2013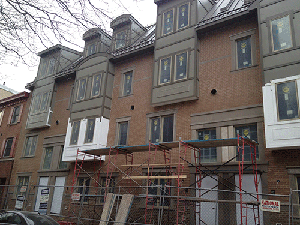 Although the Census Bureau bases its monthly new-home sales report on a relatively small national sample, there are no better indicators of the strength of that market available.
The monthly report, released Tuesday, shows the all-important single-family housing market continuing on the upswing.
Sales were at a seasonally adjusted annual rate of 417,000, 1.5 percent above the revised February rate of 411,000 and is 18.5 percent above the March 2012 estimate of 352,000.
The median sales price was $247,000, up a modest 3 percent from $245,000 in 2012. There were 153,000 new single-family houses for sale in March, a supply of 4.4 months at the current sales rate.
The data tell us a couple of things. First, the annual rate is 417,000, meaning that if the rate of construction continues for the entire year at the same pace as in March, that many homes will be built by Dec. 31.
It remains a far cry from the number built annually during the boom and well below the 1.5 million that the economists say we need to build to satisfy normal demand.
National Association of Home Builders' chief economist David Crowe said it again Tuesday: "At this point, we are about half-way back to what would be considered a 'normal' level of sales activity."
The data also tell us about what is being built — housing under $300,000. As I go Town by Town each Sunday in the Business section, what I'm finding is the highest demand and the biggest shortage is in this price range.
Consider the median price of houses sold in the eight-county Philadelphia region in March, as determined by Prudential Fox & Roach HomExpert, which uses data supplied by the Multiple Listing Service.
That number: $205,000.
Then there is the inventory question. In its report Monday, the National Association of Realtors cited a relatively small decline in sales of existing homes in March from February, 0.06 percent, while acknowledging a year over year increase of 10.3 percent.
Although the year over year rise is encouraging, it still represents, as does Tuesday's new-home sales increase, an improvement over a housing market in deep depression for six years.
The Realtors blame the monthly drop on lack of inventory, and a check of a number of communities in the region, using data from Movoto.com, do show fewer houses for sale in April than in March, and even more than April 2012.
There is obviously a shortage of new homes in the under-$300,000 range in the Northeast and the Midwest — both of which saw increases in the Census Bureau report — while the South and West suffered declines in sales.
If six years of downturn can establish "traditions," the new-home markets in the West and South, especially Florida, have had to compete with cut-rate foreclosures and short sales, and there still may be enough of those creatures to reduce single-family construction, although one month cannot tell a real story.
In the Philadelphia region, the shortage of inventory this spring may be attributable to, as real estate agent David Marcantuno of Century 21 Alliance in Burlington Township, to an absence of distressed housing.
"It seems to me that we just cleared out the huge backlog of short sales and foreclosed properties available over the last couple of years," he says. "With rates holding very low — possibly the lowest you'll see in a lifetime — people are looking to buy again. The first wave of new buyers this spring pretty much wiped out the inventory, so there is less out there, and prices are higher."
Marcantuno and other agents are seeing multiple offers again on "nice houses" priced correctly for the market.
The not-as-nice places might sit a little longer.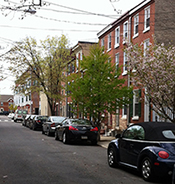 It was, I recall through the cobwebs of 31 years, a shock to find that the only house we probably could afford was in the 200 block of Montrose Street, not the 200 block Monroe Street as I had read the ad originally.
Married less than two years, we had, at the urging of our accountant, been looking to buy for months, but were stymied by interest rates of 18 percent.
We had seen a listing for the three-bedroom, 1 1/2-bath rowhouse for $63,500 with $10,000 down and an assumable 13 1/2 percent VA mortgage. It was, in my mind anyway, akin to a miracle.
And here it was, in the middle of the block between Moyamensing Avenue and Third Street, 11 1/2 feet wide, three stories high and, as later I learned, 53 feet deep.
As Cher said in Moonstruck, "A miracle? This is modern times! There ain't supposed to be miracles any more!"
For the next five years, however, it was our house, home to our first-born, and the source of the mortgage-interest deduction that our accountant, who remains in that job to this day, craved.
Monthly payment: $850. Property taxes: $500 a year.
When you join Town by Town's tour of Queen Village in today's Business section, you quickly discover that time, and real estate, don't stand still. These days, houses on the 200 block of Montrose list for $325,000, Prudential Fox & Roach agent Kathy Conway tells me, although interest rates are a reasonable 3.5 percent.
I asked economist Kevin Gillen at Penn's Fels Institute if I could still be a first-time buyer on Montrose Street.
"The total annual housing costs — mortgage payment plus property tax bill and maintenance costs — should be 30 percent to 40 percent of annual gross income," Gillen says, adding that "if housing costs exceed that, then your house could be deemed 'unaffordable' to you."
And one more thing: "Include utility costs. Historically, they didn't matter too much, but they certainly do today," Gillen says.
Without utility costs, I'd be paying $1,416 a month, according to Trulia. That doesn't count AVI.
The 200 block of Monroe Street wouldn't be a stretch either these days. Conway says I could pick up a trinity for $200,000, although we ruled them out back in 1982 because I was hitting my head on low ceilings as I maneuvered the stairs in some we looked at.
I didn't do very well in the resale in 1987, since we put the house on the market just as it was turning sour.
We did a lot of renovating in those five years — mostly to undo things previous owners considered cutting edge at the time — as well as maintenance.
It took us six months to sell it, for $84,500. That was certainly more than we paid, but it was the equity bonanza I'd hoped for.
Conway says many sellers today are doing much better, with many preferring to move into larger houses in Queen Village from their first-time digs.
"I sold a house in the 200 block of Fitzwater Street to a couple for $85,000," she says. "They took out a 203K mortgage for $130,000 to renovate it."
Five years later, and now with two children, they sold the renovated house for $729,000, she says.
In many cases, sellers of their first houses are making $300,000 when they sell to move on, not the $40,000 they used to," she says.