Saturday, Nov. 17 is opening night at District 611 in Riverton, N.J. - about 5 minutes from the Tacony-Palmyra Bridge and an easy 20 from Center City up 95 and over the Betsy. If my walk-through the other day is any indication, you're going to hear a lot about this modest-priced, rustic BYOB with the wood-burning pizza oven and polished concrete floor, next to a CVS. Operators are three dream-chasing veterans of the Starr Restaurant empire, and they're doing a cool menu of Neapolitan pizzas and assorted yummies like steak frites, big salads, and rock shrimp tempura, washed down with New Hope fountain soda. It's open for dinner only for now.
District 611, 710 Broad St., Riverton, 856-829-1552.
And speaking of Jersey restaurants with numbers in their names...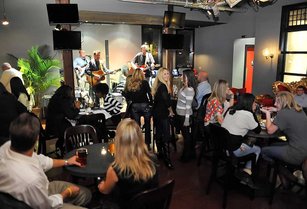 Tavro Thirteen, which opened last month in Swedesboro, N.J., is fine dining on one side, but the other side is its let-your-hair-down counterpoint, with a stage hosting live acts (like Engardo Cintron, a Latin trio, tonight) and a bar menu from Terence Feury that includes sweetbread-stuffed chicken wings and warm pretzels.