John Featherman
The jackpot for tonight's Mega Millions drawing has reached $240 million. The odds of winning the jackpot with a single $1 ticket are a staggering 1 in 258.9 million.
But before you rush out to buy a ticket, I've got a better proposition for you.
How about a seat on Philadelphia's City Council?
John Featherman
Don't cross the line.
That's the message the U.S. Attorney in Philadelphia sent today when he announced the government's indictment against members of Ironworkers Local Union 401.
"It's one thing to negotiate a contract," said U.S. Attorney Zane David Memeger at today's press conference, adding, "It's one thing to picket in order to get your position heard and get support. But when you cross that line and engage in violent acts, when you commit arson, when you physically assault someone, then that's a problem because that type of conduct cannot be tolerated."
John Featherman
One of the good Samaritans this morning who fed stranded drivers involved in the massive pileup on the PA Turnpike was none other than my friend and colleague Steven Hunn, 46, of Huntingdon Valley, PA.
Hunn, who is the Area Manager for home inspection firm US Inspect, posted a video on Facebook which showed him going around to cars that were in the accident.
Hunn told his Facebook friends, "Kudos to the Southampton McDonalds and Wendys (both on 2nd Street Pike). I contacted both today and they graciously donated cheeseburgers. I took the burgers along w/ 2 cases of water to the Buck Rd overpass in Southampton, parked my car, jumped the blockade and started handing out cheeseburgers/water bottles to the poor people stuck on the PA Turnpike."
John Featherman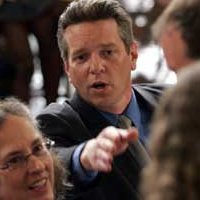 Russ Diamond, a 50-year old Republican who was named one of three "Citizens of the Year" by the Inquirer in 2006 for his PACleanSweep anti-incumbency movement, declared this morning that he is seeking the GOP's nomination for State Representative in Eastern Lebanon county's 102nd district.
Diamond, an self-described entrepreneur and former musician, works as an over-the-road truck driver. In an interview today, the Annville resident described himself as an advocate of "massive government reform" making property tax relief his central theme.
"Somebody needs to tackle the topic of property tax relief in Harrisburg, and I am the person to do it," Diamond said, adding, "Somebody with a strong voice who knows how to navigate the political waters and can make things happen."
John Featherman
In a prominent commentary featured on Philly.com on Wednesday, a clearly disgruntled tenant living in Philadelphia expressed outrage that "slumlords own so many properties in the city" and that Philly residents are living "like animals because the Department of Licenses & Inspections is not doing its due diligence."
The article has quickly made its rounds in the investor community, and opinions are piling on fast.
Let me disclose that as a properly licensed landlord, legally licensed real estate agent, and state-approved real estate instructor, I read the tenant's story with shock, apprehension and, quite frankly, defensiveness. Spending the last decade of my life focusing on leasing residential properties in all neighborhoods in Philadelphia, I've witnessed – first-hand - the good, the bad, and, yes, the ugly. I've seen anal-retentive landlords (my favorite) and absentee landlords (I avoid them).
John Featherman
Dee Adcock, a 62 year-old businessman who owns and operates a swimming pool equipment distribution company, told me this afternoon he is running for Pennsylvania's 13th Congressional seat "to restore the American dream for working men and women for the district and the country. The only way we can do that is to get the economy going."
As the nominee of the Republican Party in 2010, Adcock received 91,987 votes against the winning incumbent Democratic Congresswoman Allyson Schwartz, which earned him a respectable 43.7% of the total vote – an amazingly high percentage that is virtually unheard of for any Republican running for a Congressional seat that has a part of Philadelphia in it.
The Congressional seat is open, as Schwartz has said she is not running for reelection, as she is an announced candidate for governor.
John Featherman
Just two weeks into the new year, many pundits are already calling Tom Corbett the most unpopular governor up for reelection. Sensing weakness, Democrats – and even one Republican -- having been lining up to challenge him.
In addition, all 18 seats in Pennsylvania's United States congressional delegation are up for grabs, as well as all 203 slots in Pennsylvania's House of Representatives. Half of the State Senate seats (the even-numbered districts) are also on this year's ballot.
Tens of millions of dollars will be spent in Pennsylvania on those elections alone with glitzy TV and radio ads. And the nation's eyes will be on us.
John Featherman
Good news for Eagles fans.
But, as they say in the late-night infomercials, "act fast before it's gone!"
If you go to this Ticketmaster link, you may still be able to purchase individual seats - without any special codes or premiums - to this weekend's Eagles-Saints playoff game at the Linc.