John Featherman
First they came for the Socialists, and I did not speak out--
Because I was not a Socialist.
Then they came for the Trade Unionists, and I did not speak out--
Because I was not a Trade Unionist.
Then they came for the Jews, and I did not speak out--
Because I was not a Jew.
John Featherman
Al Gore may not have invented the Internet, but he sure was right about one thing: Ed Rendell was "America's mayor." Who else could have dug Philadelphia out of its massive fiscal problems – ones so bad that we were on the cusp of bankruptcy?
When Rendell became mayor on Jan. 6, 1992, he inherited a $250 million deficit and the lowest credit rating of any major city in the United States. During his tenure, he balanced Philadelphia's budget and generated five consecutive years of budget surpluses while cutting business and wage taxes.
Rendell did the impossible during his first term: he froze the wages of unionized municipal workers, cut their healthcare and benefits, and slashed more than 1,500 city jobs.
John Featherman
I can almost guarantee you've never heard of David Lynn. Until recently, neither had I.
Lynn, 46, is mild mannered and gentle. He's the kind of a guy you feel comfortable around right away. He's also the kind of person you sometimes don't notice or remember at a cocktail party because he's so unassuming.
That's his outside demeanor.
John Featherman
I didn't vote for Barack Obama. Not the first time. Not the last time.
I didn't vote for John Kerry, either.
I have never voted for a Democrat for President of the United States.
Poll: Should the U.S. retaliate against Syria?

(1724 votes)
John Featherman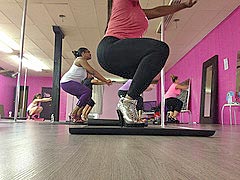 "I know it when I see it!"
That's how Supreme Court Associate Justice Potter Stewart replied when asked to define hardcore pornography, acknowledging that it's difficult to describe.
Well, that's how I felt when I watched Miley Cyrus performing her dirty dance at the wild MTV Video Music Awards performance of Sunday night.
John Featherman
Riley Cooper, move on over – you've got competition!
In this just released interview with the Daily Beast, Congressman Charlie Rangel (D-NY) referred to Tea Partiers with the "C-word, " saying, "It is the same group we faced in the South with those white crackers and the dogs and the police."
Could Rangel have been talking about saltines? Anything's possible, but it looks more like he should be fined, undergo some sensitivity training, and maybe have our District Attorney lecture him.
John Featherman
Last night, Pennsylvania Governor Tom Corbett whisked into town to do a quick "meet and greet" with more than 350 GOP supporters at the Southampton Room in Northeast Philadelphia. The free open bar/open buffet event -- hosted by the Republican City Committee (RCC) and its chairman, State Rep. John Taylor (R-177) – was billed as a free event, but was closed "to Republican ward leaders, committeepeople and select volunteers," according to RCC Executive Director, Joseph J. DeFelice, Esq.
DeFelice told me that the event featured speeches from Corbett, Taylor, city controller candidate Terry Tracy and district attorney hopeful Danny Alvarez. "Danny gave a fiery speech standing on a chair," DeFelice said, adding, "This was just another great example of a positive movement forward to show we are a united party committed to building the Republican Party in Philadelphia."
Not everyone shared the love of Corbett.
John Featherman
VIEWER DISCRETION ADVISED: This article contains obscene/indecent mention of a sin tax.
"Even though all my stripper friends are gonna be mad at me, I think we can stimulate the economy with a tax on strippers."
Those are the words of former Miami-Dade mayoral candidate Luther Campbell.