Call this one "A Fish out of order."
The Center City seafooder - which racked up all kinds of awards in its two locations over four years - has closed at 13th and Sansom Streets, says its owner.
There's a buyer: Marcie Turney and Valerie Safran, who will use Fish's midblock restaurant space and its short-lived Rhino Bar at the corner of 13th and Locust to expand their holdings in Washington Square West. The couple own a veritable empire two blocks north, on the block between Chestnut and Sansom: Lolita, Barbuzzo and Jamonera, plus the retail locations Grocery, Verde and Open House.
Safran confirmed the deal buit would not disclose their plans for Fish/Rhino.
Busy couple of days for them: On Friday, Safran said Lolita (106 S. 13th St.) would obtain a liquor license.
The Fish story: Evan Prochniak, a lawyer, assumed sole control of the restaurant in December as chef Mike Stollenwerk bowed out. Rhino has been closed since January after what has been described as a flood. Both Fish and Rhino are beneath the Independent Hotel.
Fish rode high with Stollenwerk, a Shore native who made his entree to the Philly scene by buying the BYOB called Little Fish, then at Sixth and Catharine Streets. He later sold it.
Fish - a more upscale operation, with a bar - opened in fall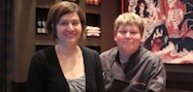 2008 in the former Astral Plane at 1708 Lombard St. but in early 2012 moved into the corner of 13th and Locust Street, which had been a series of gay clubs including Bump.
But by May, Prochniak and Stollenwerk were at odds, and the restaurant closed briefly. In October, Fish moved a short distance east on Locust Street into smaller space, while the corner became Rhino Bar - less ambitious, more of a taproom.
With Green Eggs Cafe rocking and rolling on the opposite corner of 13th and Locust, Safran sees new hope in that slice of the neighborhood. "Ten years ago, we would have never touched it," she told me.