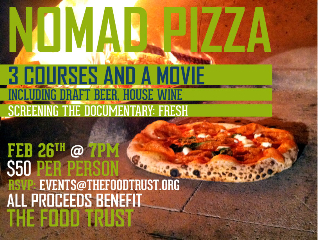 On Tuesday, February 26, Nomad Pizza Company (611 S. 7th St.) will host a screening of the documentary FRESH as well as a 3-course meal with draft beer and house wine at 7 p.m.
Tickets are $50 and all proceeds will go to the Food Trust.
FRESH, by Ana Sofia Joanes, gives the perspective of the farmers, thinkers and business people across America who are re-inventing the food system. In a response to the challenges of food contamination, environmental pollution, depletion of natural resources and morbid obesity, each attempt to forge healthier, sustainable alternatives and offer their vision for a future.
For more information on the film, click here. Email events@thefoodtrust.org to reserve your ticket.