EDITOR'S NOTE: This is the first edition of the TRUMPadelphia newsletter. Written by Aubrey Whelan, TRUMPadelphia will unpack how President Trump's policies impact the lives of Philadelphians. Sign up to receive it every Tuesday morning. 
Welcome, friends! You're getting this email because at some point in the last few weeks or so, you or someone you know signed up for a newsletter about President Trump and his policies and what this Moment In American Politics (and it is a capital-M Moment) means for us here in Philly. This is the first edition, and I'm excited to dig into it with you.
I'm just as excited to hear what you think. You can email me here with thoughts, concerns, suggestions, photos of your pets, and/or complaints. And if someone forwarded you this newsletter and this introduction has won you over, you can sign up to get it in your own inbox here. (If you're not sold yet, please keep reading.)
-Aubrey Whelan
Today, let's talk about Russia … and Philly.

What's at stake
The future of the presidency (maybe). The future of the Republican Party (more likely). The future of the investigation into Russian meddling in the presidential election, which rests increasingly on the shoulders of Philadelphians (really!).
The local angle
Inevitably, on the morning after some explosive news item breaks, I will arrive in the newsroom to learn that the latest bureaucrat swept up in The Russia Thing is from the Philadelphia region. It started back in February, when former national security adviser Gen. Michael Flynn resigned over conversations he had with the Russian ambassador before Trump's inauguration. Flynn was replaced by Gen. H.R. McMaster, a son of Roxborough who went to Valley Forge Military Academy.
Then, earlier this month, Trump fired FBI director James Comey, who was leading the Russia investigation. The White House's initial narrative was that the president had done it on Deputy Attorney General Rod Rosenstein's recommendation. (That story fell apart, by Trump's admission, a few days later.) Rosenstein grew up in Lower Moreland, where, as a teenager, he wrote letters to the editor of the Inquirer complaining about word choice in editorials.
A week after Comey's firing, Rosenstein appointed a special prosecutor to oversee the Russia investigation — former FBI director Robert Mueller.
He's from Villanova.
(Coincidentally, Mueller also made an appearance in the pages of the Inquirer as a youth, when the society page ran a spread on him "selecting his wedding party," which is what the newspaper writes about you when your family is very fancy and it's 1966.)
I could go on — about James Comey's dad, who's a Jersey Republican, going after Trump in the Bergen County Record this weekend. Or about the other Flynn scandal — the Turkish lobbying money he reportedly took to dig up dirt on a reclusive Muslim cleric in the Poconos (a wild story all by itself). But let's not get too Pepe Silvia here.
What's ahead
All Philadelphian rabbit holes aside, Mueller's appointment is a big development in the Russian investigation. A widely respected figure who's no stranger to political pressure, he occupies a unique position now — the New York Times has a good rundown on the powers of special prosecutors.
CNN reported yesterday that Mueller had been briefed on the memos Comey wrote that allegedly detail Trump's requests to shut down the Flynn investigation. And Comey himself has reportedly delayed testifying in front of the House Oversight Committee so he can talk to Mueller first — although he is still set to testify in front of the Senate Intelligence Committee next week, which means we'll all be glued to CSPAN on our lunch breaks again.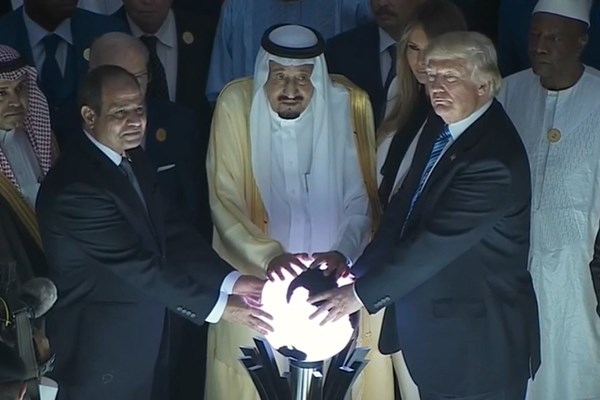 What they're saying
"We are not here to lecture—we are not here to tell other people how to live, what to do, who to be, or how to worship." — President Trump, taking a gentler tack than expected in a speech on Islam in Saudi Arabia over the weekend.
"For clarification, this is not a Satanic ritual." — The honest-to-god Church of Satan, on The Orb (see photo above, if you somehow haven't already).
"[Gen. Michael Flynn] is the target on nearly a daily basis of outrageous allegations … which, however fanciful on their face and unsubstantiated by evidence, feed the escalating public frenzy against him." — Robert Kelner, Flynn's attorney, in a letter saying his client will take the Fifth in response to a Senate committee subpoena of his contacts with Russian officials.
In other news…
Trump is expected to unveil his budget plan — a more comprehensive version of the "skinny budget" priorities he put out earlier this year — this morning. My colleague Don Sapatkin and I looked at some of the early reaction in the region to what details have emerged, including worries about big cuts to Medicaid and SNAP (formerly known as food stamps). That said, Congress still has to pass the budget — and Trump's spending plan assumes the Obamacare repeal and his tax plan will pass Congress, too, which are far from done deals.
After a federal judge blocked portions of Trump's executive order aimed at defunding sanctuary cities like Philly, the Department of Justice is asking him to reconsider the ruling. (I wrote about the ins and outs of that ruling — and Philly officials' gratification over it — here.)
A coalition of local immigrant groups are demanding the resignation of the president of Congreso de Latinos Unidos, a Latino community nonprofit — because she was seen on camera applauding at a Trump rally.
What I'm reading
A non-political palate cleanser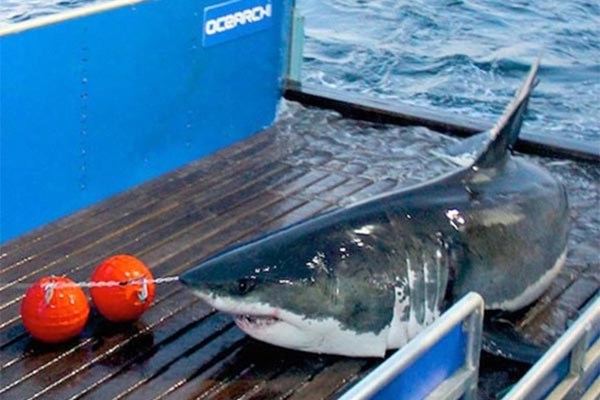 Beloved terror Mary Lee, the great white shark who likes to hang out in the waters off the Jersey Shore, could be en route home for Memorial Day! Shudder fondly with me!